Europe Trip Planner Guide
Europe Trip Planner Guide, is our personal to do list of things to do if you are planning a trip to Europe.It guides you on how,where and when to travel in Europe.Its a must read for all of you dreaming of visiting Europe this summer.
Travelling is always fun and there are some places which are on everyone's mind.Europe is that kind of place where everyone from young to old ,rich to poor and fat to thin wants to go at least once in a life time.Europe is romantic,vintage and an amazing place to be. But apart from the beauty and charm of Europe ,the negative side for travellers is the cost as travelling and staying in Europe can be really a costly affair.
When Nik announced that he was planning a trip to Europe to celebrate our 3rd wedding anniversary,I was so so thrilled and exited but also worried about the expenses. But a little planning and research helped us to enjoy it in budget friendly way.
We started planning our trip 3-4 months before. I clearly remember all those days and nights that we spent in to studying and researching Europe. We read about places, planned the routes, finalised the hotels and did many of those things which I am sharing with all of you here
and this is how we (Sid+Nik) did it
Europe Trip Planner Guide step 1 : Deciding on the countries & cities to visit.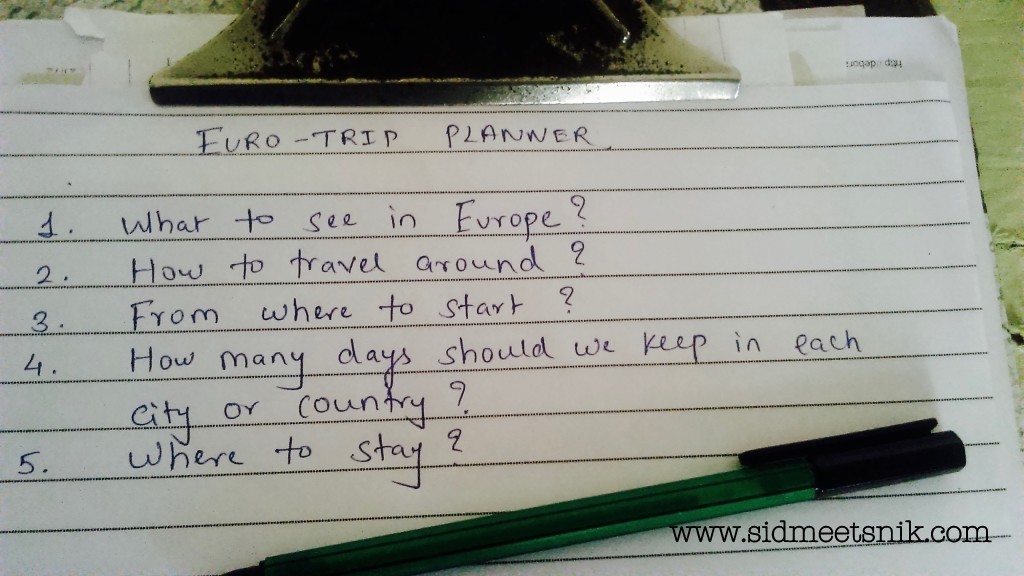 Europe has many countries which are worth visiting and its difficult to see all of Europe in your first visit.so what we did was we just picked up those cities where we wanted to go from childhood and about which we had heard a lot.Our first choices were cities like Paris,Rome,Venice and Berlin. After researching up the maps and the route planners we thought Prague was possible too. Nik finalised this place named Schliersee (in Germany) which is not very common but very serene and beautiful (a perfect place for our 3rd honeymoon)so we added that too to our list…..hence the first thing was fixing up the places and jotting all the cities down.
Europe Trip Planner Guide step 2: Taking Eurail Global pass.
Second and most important thing is travelling in and around Europe.There are flights,trains and one can also do a road trip but the best and the convenient way to travel is by train. Trains in Europe(http://www.eurail.com/europe-by-train) are very well connected and there are number of passes for fixed number of days which one can opt for according to their need and countries of visit.We had finalised 6 countries so we took a Eurail Global Pass which consisted of infinite travel in Europe for the duration of 15 days.
Buying Eurail Global pass was one of the best decisions of our Europe trip as we saved on a lot of money and also could travel hassel free.For more information on Eurail passes read my blog on the same)
Europe Trip Planner Guide step 3: Fixing up the route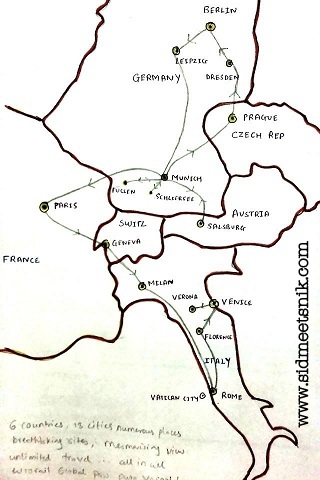 After finalising the countries we wanted to see,we started studying the routes. Our itinerary planning took many days as the main thing to decide upon was where to fly first. Nik started looking for airline deals and checked many options from different countries and zeroed on Lufthansa.We got the best deal of the season which was Mumbai-to-Munich and Venice-to-Munich-to-Mumbai. So finally the route which we decided was as follows:
Germany–>Austria–>Czech Republic–>France–>Italy.
Europe Trip planner Guide step 4: Scheduling days, dates and time
Once the route was decided I started working on what we wanted to see in that city and how many days would it take to cover that part.This is the most crucial part of planning any trip as sitting on the couch with laptop in hand cannot give us complete idea of the place. I spent many crazy nights in deciding this and then off course I researched a lot,talked to my friends,emailed Eurail authorities and thats how I scheduled the days and dates for each city.
Each country has many things to offer but its completely an individual's choice as to what to see in that country. For example,in Germany many people suggested we should visit 'Black forest 'but Instead we chose silent and clam 'Bavaria'.
Though we had a Eurail pass, cross country travelling sometimes needs prior reservations so for those long distance night journeys we made the reservations (http://www.eurail.com/plan-your-trip/guide-eurail-train-reservations) and then accordingly fixed the dates.
Europe Trip Planner Guide Step 5: Looking for hotels/hostels/Bed & breakfast options
Planning the accommodation depends on how you want to spend your holiday and how much you can splurge.For us it was our anniversary trip so we wanted it to be romantic as well as adventurous and earthy and hence we selected the hotels keeping this in mind.First whole week we stayed in a very high class elegant resort Alpen Club (http://www.alpenclub.de) which gave us those quiet couple moments plus the luxury and the indulgence. In Paris too we stayed in a cozy hotel named Alma (http://www.almahotel.fr) and in Prague we opted for a club hotel named City Club Prague(http://www.city-club.cz)with a basic room which had breakfast.In Rome however we choose Bread and breakfast hotel where we met like minded tourists and had equal fun. We always made sure that wherever we stayed in Europe, it was near to the railway station as our main mode of transport was through train.
We had booked hotels through http://www.booking.com, and also through http://www.eurail.com/plan-your-trip/accommodation/hotels.Hostels are also a good option if you are low on budget and want to enjoy backpacking type of holidays.

Planning your first ever Europe trip all by yourself can be both exiting as well as nerve wrecking. There are loads of things which needs to be considered and planned before and there can be many unexpected things too. This is the beauty of travelling that you come out of the comfort zone and see and feel something new every time.
This trip changed me inside out. It gave me some magical,fun,scary,nostalgic and breath taking experiences of my life and thats the reason I am blogging it here.
More such travel stories coming soon…..Till then start planning your EURO-TRIP..:)
Please follow and like us: