When in doubt pedal it out!!!
When in doubt pedal it out is a blog that tells you about our new found love of cycling and how we are doing our tiny bit to promote it.
Cycling has loads of benefits and its a complete liberating exercise which just sets you free.
When in doubt pedal it out, thats what we(Sid+Nik) are doing since 2 months, as we have taken our first ever Schnell, 21 gear, zesty green bicycle together.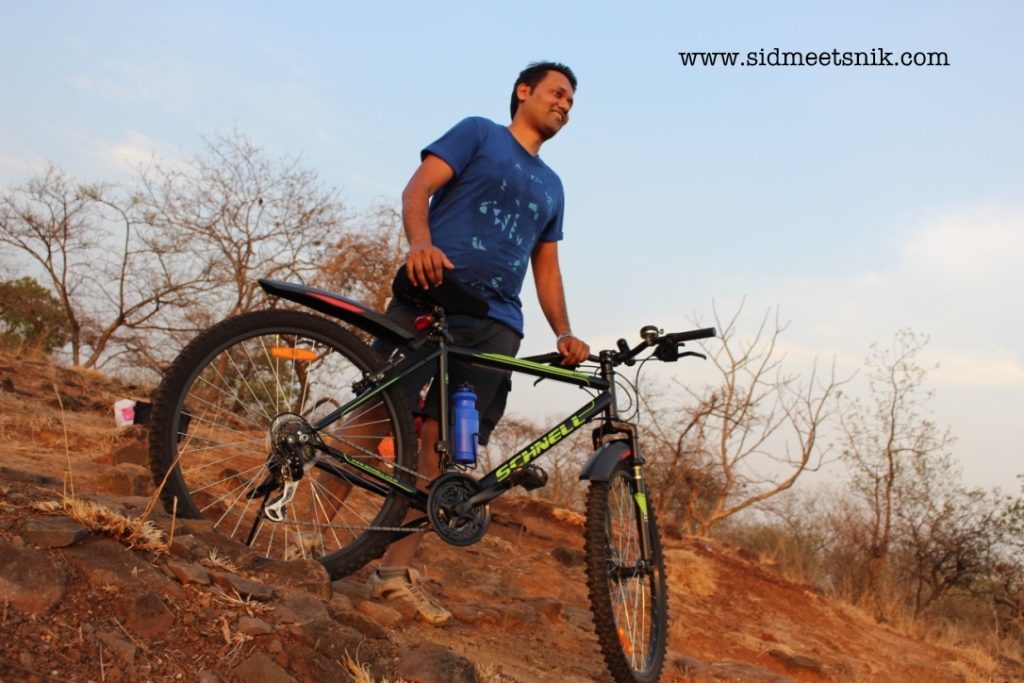 Cycling was always a fun activity for me and brings back so many memories of my childhood.The first time when I could cycle on my own felt like a victory of all times. I still remember how glad I had become and had rushed to tell my grandfather about my first ever solo cycling adventure.I was 9 years old then and had felt so much of freedom on my bicycle.I was also gifted a purple colour ladybird cycle by my parents then.But after I grew old, college—>work—>married life—> responsibilities came and I totally forgot about how much I used to enjoy cycling.
When the realisation happened without wasting a single moment Nik gifted me this bicycle which is something which we both can ride and is the source of our new happiness. Nik too loved cycling in school and always wanted to have a new cycle so… WE BOUGHT IT.
Now after 21 years, when we have taken up cycling again, it feels the same. We can still relate to a lot of things when we are peddling and cycling and it just makes us so much relived and relaxed.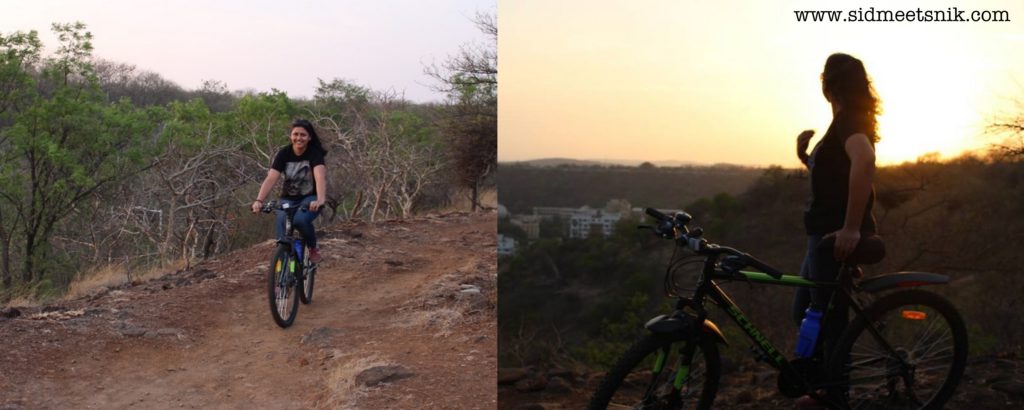 When we are cycling, we are automatically focusing on the present and start living in the moment. It is a great exercise for both Body and Mind and hence I totally recommend it.
Cycling trips till now:
It has been just 2 months now but till now Nik and me together have cycled for almost 250 kms,so far so good.:)
Nik goes to Kadakwasla (https://en.wikipedia.org/wiki/Khadakwasla_Dam) and also rides through Pashan lake ( https://en.wikipedia.org/wiki/Pashan_Lake) and Chandani chowk on Sundays. I ride in Pune University area and go to Vetal hill (https://en.wikipedia.org/wiki/Vetal_Hill) on weekends. On week days we ride during night times after dinner.
Our next Aim is to cycle up till Sinhagad Fort(https://en.wikipedia.org/wiki/Sinhagad) and its in our bucket list.
Cycling Achievements so far:
I haven't done anything commendable till now apart from normal cycling but I am really proud of Nik as he cycled to Office one day.His office is 16 kms (9 miles) from our house and there are no separate cycle tracks for it.He cycled through the main road amidst Buses,bikes and cars which was appreciable.He started at 7 in the morning and cycled for almost 45-50 mins to reach his office.In the evening too he cycled through all the traffic on Nagar road and covered 16 kms back after working for 9 hours.Pune city(https://en.wikipedia.org/wiki/Pune) where we stay is a bustling city full of two wheelers and Cars and riding a bicycle in between on these roads is itself an adventure.
For one day he travelled vehicle free and spent zero penny on petrol.It was a no pollution and eco friendly ride for him.
The reason I think this is an achievement because, we all can cycle to our offices but we never do it thinking about traffic,timings,delays,energy drain,sweaty clothes and most important Status BUT Nik DID it!
Cycle Rallies Till now: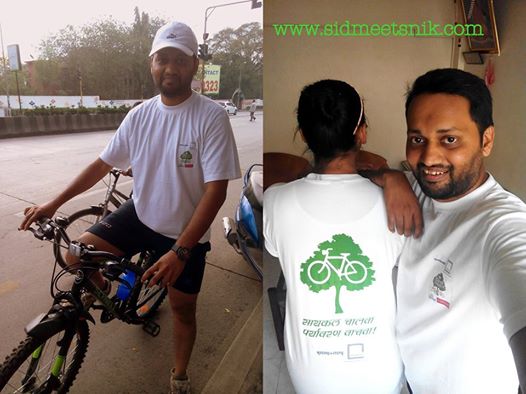 Last Sunday, we cycled for 18 kms for a Cycle Rally and it was so much fun to ride with all cycle enthusiasts and just promote it. We want to participate in many of such rallies as its inspiring,fun and gives a feeling of achievement.
This was our route for the rally: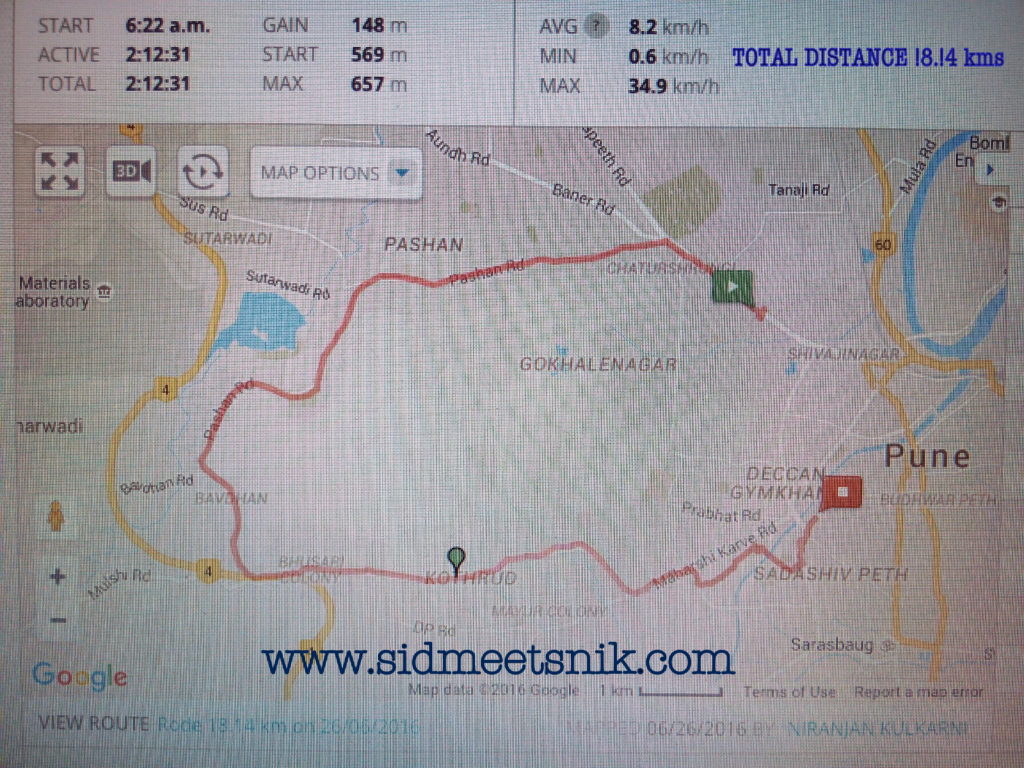 Happiness does come in small packages and its really not important as to 'What we do' but it is important as 'How we do' it. I never thought that simple cycling can give us so much of happiness and will open so many doors for us. Now we are just rearing to go.We want to cycle up the hills and climb down the mountains.We want to participate in rallies and Promote cycling.We want to live life pollution free and just enjoy the moment.
Come join the cycle revolution with us and just GET set GO.
All you people out there, reading this just don't wait to do anything that makes you happy.Just go for it NOW and LIVE LIFE TO THE FULLEST.
Don't forget to write to me back if you too have enjoyed cycling.I am waiting to hear your experiences.
Please follow and like us: