Veg Burrito Rice Bowl
Veg Burrito Rice bowl is my version(recipe) of this classic dish,which is perfect for any day,any time and any weather.
We (Sid+Nik) just love rice dishes and whenever we travel,I try to taste and learn different ways of cooking and making Rice. As we are pure vegetarians, we kind of have less options to explore but thats when Mexican food comes to our rescue.
Mexican cuisine has a lot of delicacies for veg lovers and Burrito Rice bowl is one of them. Chipotle Mexican grill is that chain of restaurant which is a hot favourite amongst the people of USA. When my parents had travelled to USA for the first time the only dish that remained with them was CHIPOTLE's Veg Burrito bowl.
So since then I wanted to try it. I was on a hunt for a good burrito rice bowl and after trying it in many Mexican restaurants here and there, I am finally presenting you, my recipe for this awesome one dish healthy meal.
Serves:

2
Ingredients:
Fresh Ingredients:
Avocado: 1 ripe one(use Black  one if you get otherwise green is okay)

Fresh Vegetables: Red Onions(2), Tomatoes(2),Lettuce,yellow capsicum,cabbage (you can mix and match any veggies of your choice)

Black beans/Red kidney beans)- half cup

Corn: half cup, slightly steamed one

Coriander/Cilantro- one full bunch

Mint leaves: a handful of them

Red and green chillies: 3-4 deseeded and cut in small bits or rings

Lime or lemons: 3

Greek yogurt or sour creme- one bowl full

Creme cheese: half cup

Cheddar cheese( Amul Cheese): enough for garnishing

Garlic: 7-8 seeds
Dry Ingredients:
Semi-Basmati rice( 200 grams)

Pepper Powder

Cumin Powder

Salt

Red paprika

Olive oil
Method:
Veg Burrito Rice bowl is actually a mixture of '5 essentials sub dishes' which can be layered or can be served in different parts in a same bowl.
So here is the method for preparing each one individually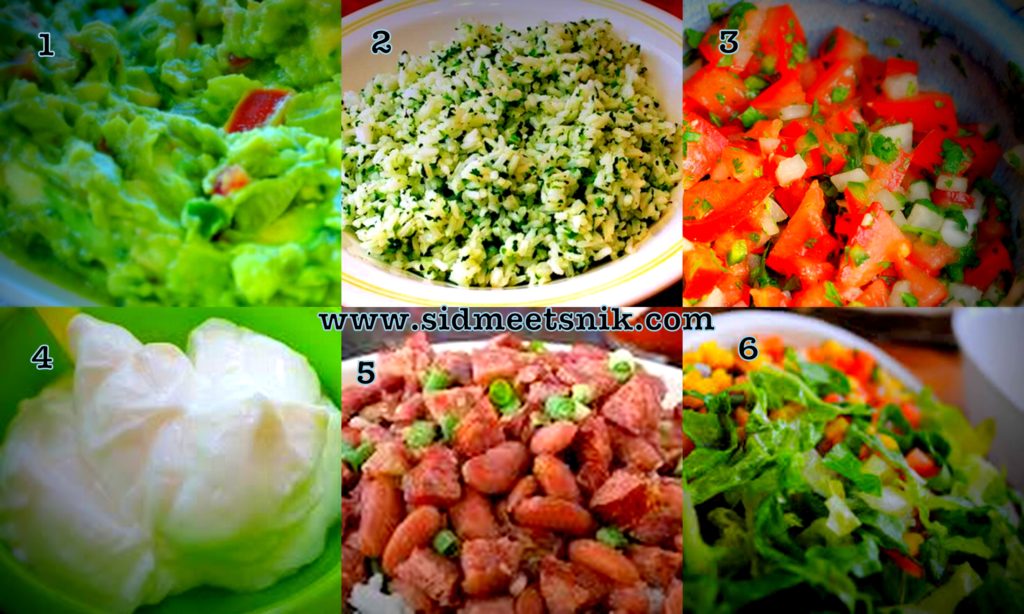 Veg Burrito Rice Bowl Essential 1: Guacamole
This is kind of a sauce or a chutney which flavours the bowl and gives a unique texture to it. Here is the method for it:
De stone the ripe black avocado and scoop all the inside flesh in a bowl.Just mash it lightly.

Add a juice of half lime to this and mix it all together. Adding lime immediately, prevents the mixture from browning.

Add finely chopped red onion and red tomato to this

mixture with handful of coriander. One medium onion and tomato is enough for this.

Season it with salt and pepper.

Add one cut red chilli to it for that extra hotness.You can also add red paprika.

You can also add Jalepenos in this but instead I added extra lime

Mix everything well and just add one teaspoon of olive oil to it in the end.Place the seed of the avocado in between the Guacamole,this keeps it fresh. Guacamole is ready.
Veg Burrito Rice Bowl Essential 2 : Lemon-Cilantro Rice
Take 200 grams of semi basmati rice( you can use any rice where the size of the grain is not very long and not very short but is medium)

Soak it for some time and then Steam it and keep aside.

To the steamed rice,add lemon juice and loads of finely chopped coriander or cilantro.

Season it with little salt.

Lemon Cilantro rice is ready
Veg Burrito Rice Bowl Essential 3: Tomato-onion Salsa
Cut tomatoes and onions in small pieces. If there is a green tomato then add that too thats a substitute for Tomatilla which is used in authentic recipe.

Add loads of lime juice and green chillies

Season with salt and pepper.

Garnish with cut coriander. Tomato-onion salsa is ready.
Veg Burrito Rice Bowl Essential 4: Creme sauce/Greek yogurt/Sour creme
Many times plain greek yogurt is used in this but I added some more things to this sauce to make it little more tasty.

Take a bowl full of greek yogurt. You can also use sour creme or hung curd for this sauce.

Add 2 spoon full of creme cheese to it and mix everything together.Don't whisk it too fast because we want the sauce to be thick and not runny.

Add crushed garlic and season with salt.

Creme sauce is ready.
Veg Burrito Rice Bowl Essential 5: Beans and Corn
Black beans is the first choice for this but I used red kidney beans.

Take half cup of beans and Soak them overnight. Steam them in a pressure cooker and keep aside.

Kidney beans should be aldente (not overcooked).It takes a long time for these beans to cook. We want the beans to be firm and not mushy.So check it in between while cooking.

After these beans are cooked, add a tea spoon of olive oil and season them with cumin powder,red paprika,salt and pepper.

Beans are ready to go in.

Similarly steam the bowl of corn and season with little olive oil and salt.
Veg Burrito Rice Bowl Essential 6: Vegetables(of your choice)
In this dish you can add the veggies of your choice but there are some which are must and give it a nice crunchy texture.

Cut cabbage,yellow capsicum and lettuce in small stripes and keep them aside.

For that extra freshness I added mint leaves too to this .

Mix all veggies together and slightly season with salt. Your vegetables are ready to go in
Method for Assembling the Veg Burrito Rice Bowl
Once all the essential sub dishes are ready, its just the mixing which is left.

There are 2 methods by which you can serve these bowls




Method 1: layer all the 'essentials'

I used this method as here you can taste in all the ingredients at one time. Take a bowl and layer it with lemon cilantro rice at first. Add guacamole sauce on the top and smear it. Then add veggies,beans and mint leaves.Now layer it with Creme sauce. Now add tomato-onion salsa and top some corns on it.Garnish with some grated cheese and finish it off with a dollop of yogurt and some lime wedges.

You can use your creativity to layer this dish…no rules for this one..:)

Your vegetable Burrito rice Bowl is ready to serve.

Method 2: Section each essential and serve it separately in the bowl.

In the bowl, make sections.Keep space for each essential and add all 'essentials' in each section. Serve is as it is with a dollop of greek yogurt on the top and loads of lime wedges.
I have tried to explain and give you my version of this yummy dish. Do try it and let me know if it tasted like the one from Chipotle.
Till then Bon Appetit!!!
Please follow and like us: