Roti Pan Pizza
Roti Pan Pizza or Roti Pan Paratha is one of my recent discovery to substitute Restaurant Pizza with a healthy version of pizza.This pizza can be made at home without microwave or oven.
If you have read my earlier blogs you know that I always crave for healthy and nutritious food keeping the taste intact.This dish is super easy to make and is irresistible so do try this delicious Roti Pan Pizza, here is the recipe.
Serves:2
Ingredients:
3 medium sized Rotis(wheat chapatis)

2 medium potatoes(washed, peeled, boiled and grated)

handful of any green leafy vegetable(I used salad leaves and spinach).

2 medium red ripe tomatoes.

2 red onions.

handful of spring onions for that crunch.

half cup grated carrot/french beans (any vegetable of your choice including lentils,cabbage etc).

2-3 Cheese cubes of your choice(I used Amul cheddar cheese).

2 spoons Ghee(indian cow's ghee is best), if not available use unsalted butter.

Salt

pepper

red paprika/green chillies

chaat masala

Pizza sauce / tomato ketchup

Ginger-garlic paste(optional)
Method :
Wash the potatoes and boil them.Peel and mash it in a big bowl.

Cut all the green vegetables(spinach &salad leaves) very finely and add it to the bowl of mashed potatoes. Keep some salad leaves aside for garnishing.

Grate the carrot and cut french beans very thinly.Blanch them and add to the mixture of potatoes.

Add Spring onions to the mixture. Spring onions should be raw as it adds crunch to the filling.

Add one teaspoon of red paprika or you can also add freshly chopped green chillies.

Add little bit of chaat masala for that extra tanginess.

If you like you pizza little spicy add one tea spoon ginger-garlic paste to the mixture.

Season this mixture with salt and pepper.

Mix everything well and add more spices according to your taste.

Peel the onions and Cut them in slices and keep them aside.

Wash tomatoes and cut them in slices and keep them aside.

Grate the cheese cubes and keep them aside.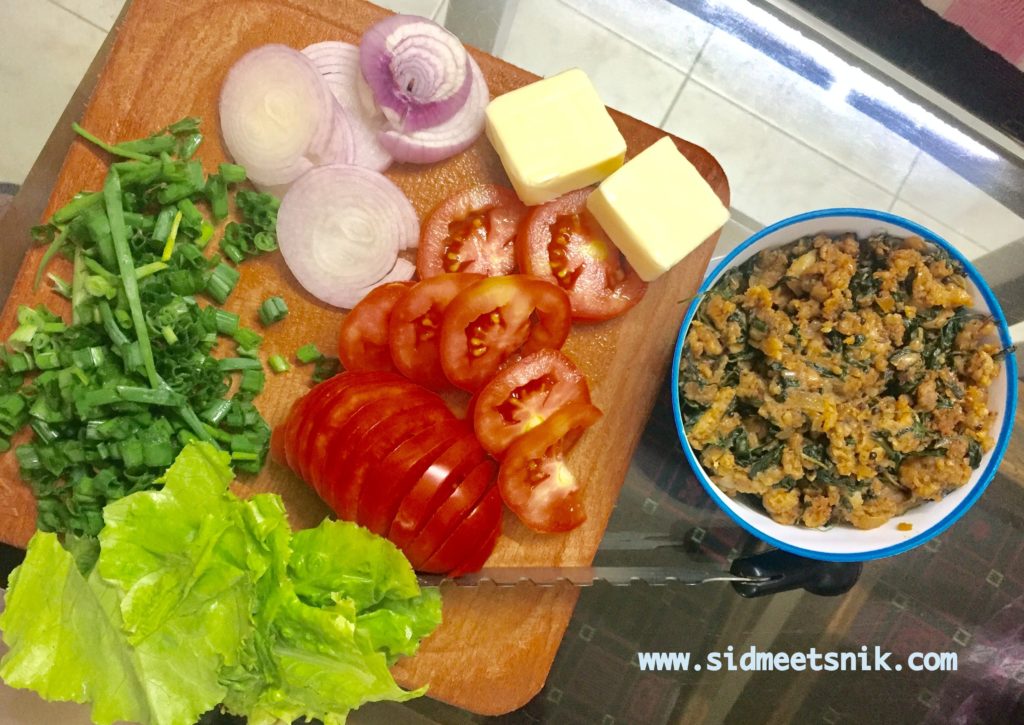 Method for assembling the Roti Pan Pizza
Take a big plate and place one Roti(chapati) on a plate.

Add little pizza sauce or tomato ketchup on it and spread it evenly through out the Roti till the edges.

Add 2-3 tablespoons of the freshly made Potato and veggie mixture and spread it evenly on the Roti.

Now add slices of onions and tomatoes all over the roti to cover the potato mixture.

Add some salad leaves on the top of this onion-tomato layer.

On top of this generously add grated cheese to cover the Roti completely.

Now on this layer add another roti and gently press everything so that the mixture sticks to the roti from inside.

Repeat the process of adding potato mixture,tomato-onions slices,salad leaves and cheese on the second roti.

Cover this second layer of toppings with the Third Roti and slightly press everything downwards.

Your Roti Pan Pizza is assembled and is ready to go on a Pan to cook.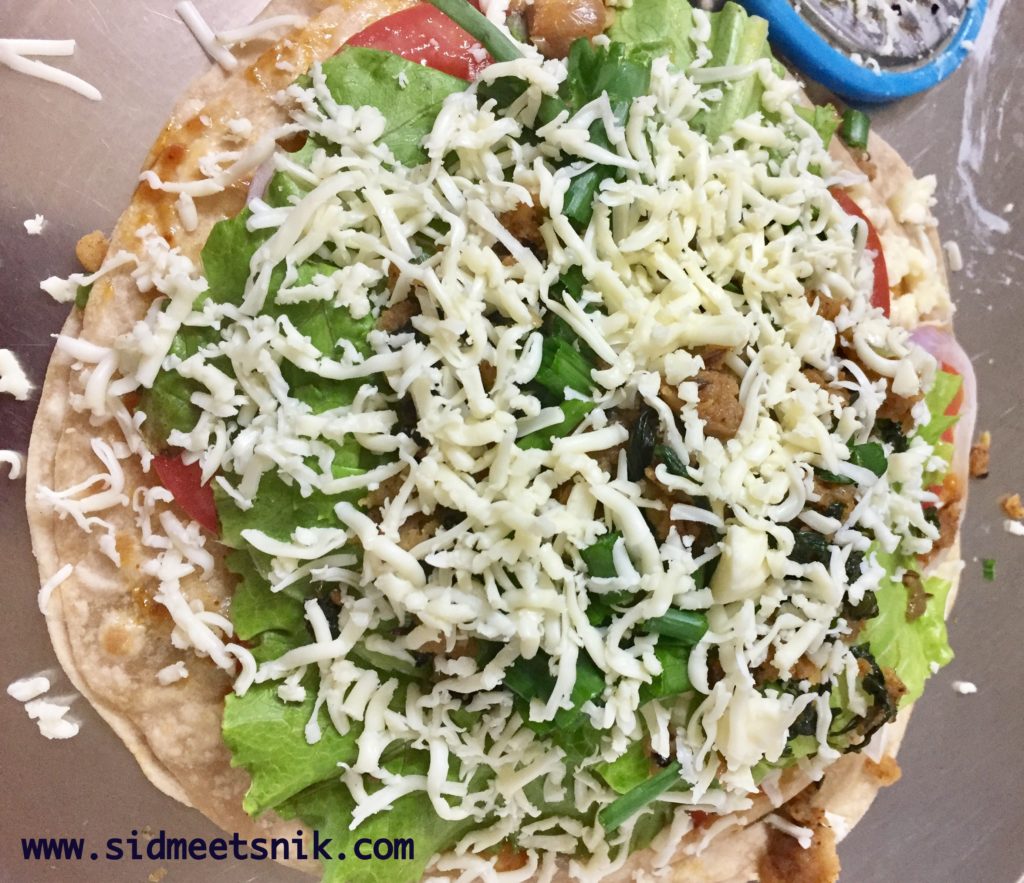 Method for baking/cooking the Roti Pan Pizza
Take a pan or a skillet with a thick base and place it on the burner.Let it heat for some time.

Add one teaspoon of cow's ghee to the pan and spread it all over the pan and let it sizzle for a min.

Now add the Assembled Roti Pizza to the pan and cover it with a lid.Cook for 4-5 mins on medium gas flame.

Once it is crisp from one side,flip it and cook it on the other side too till its golden and crunchy. Flipping is little tricky but with some practice you can flip it without the mixture coming out of the Pizza.

Your Roti Pan Pizza is ready to eat.

Serve hot with some iced tea or lemonade.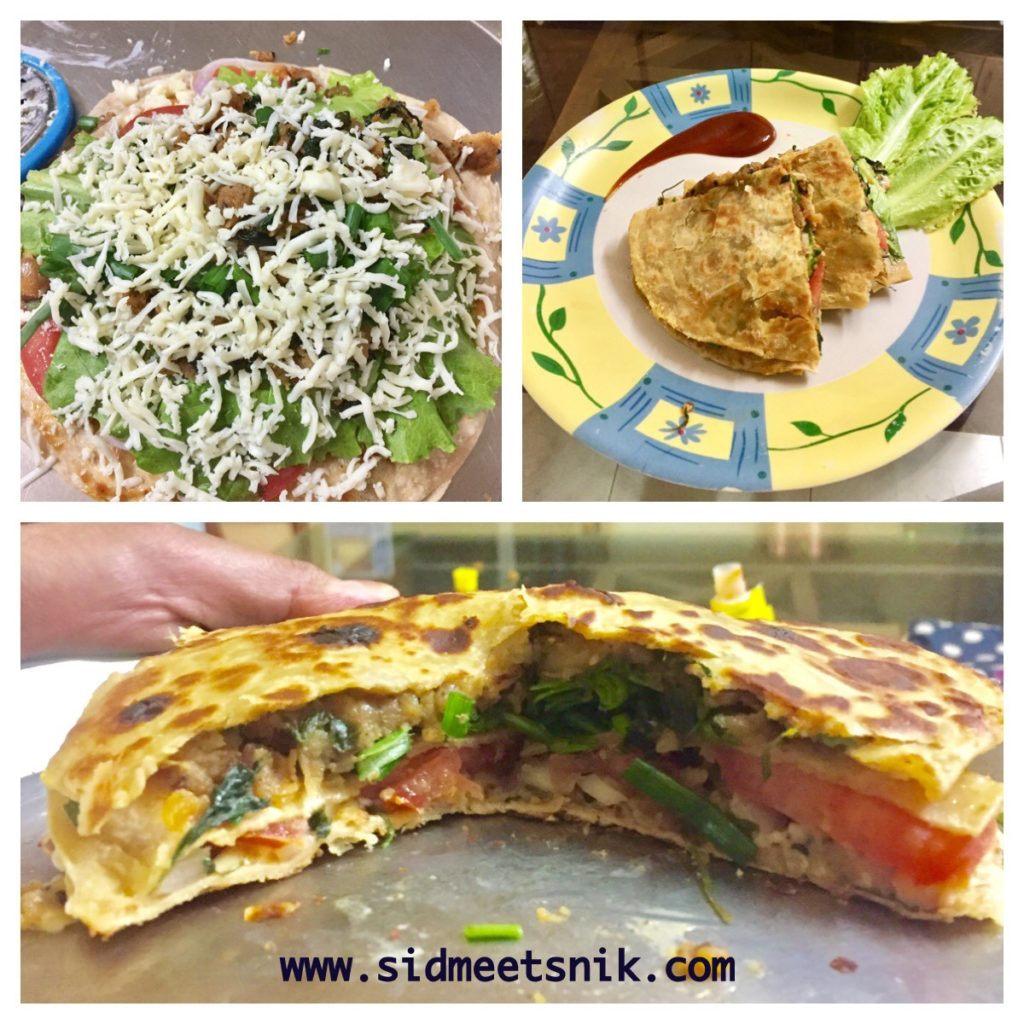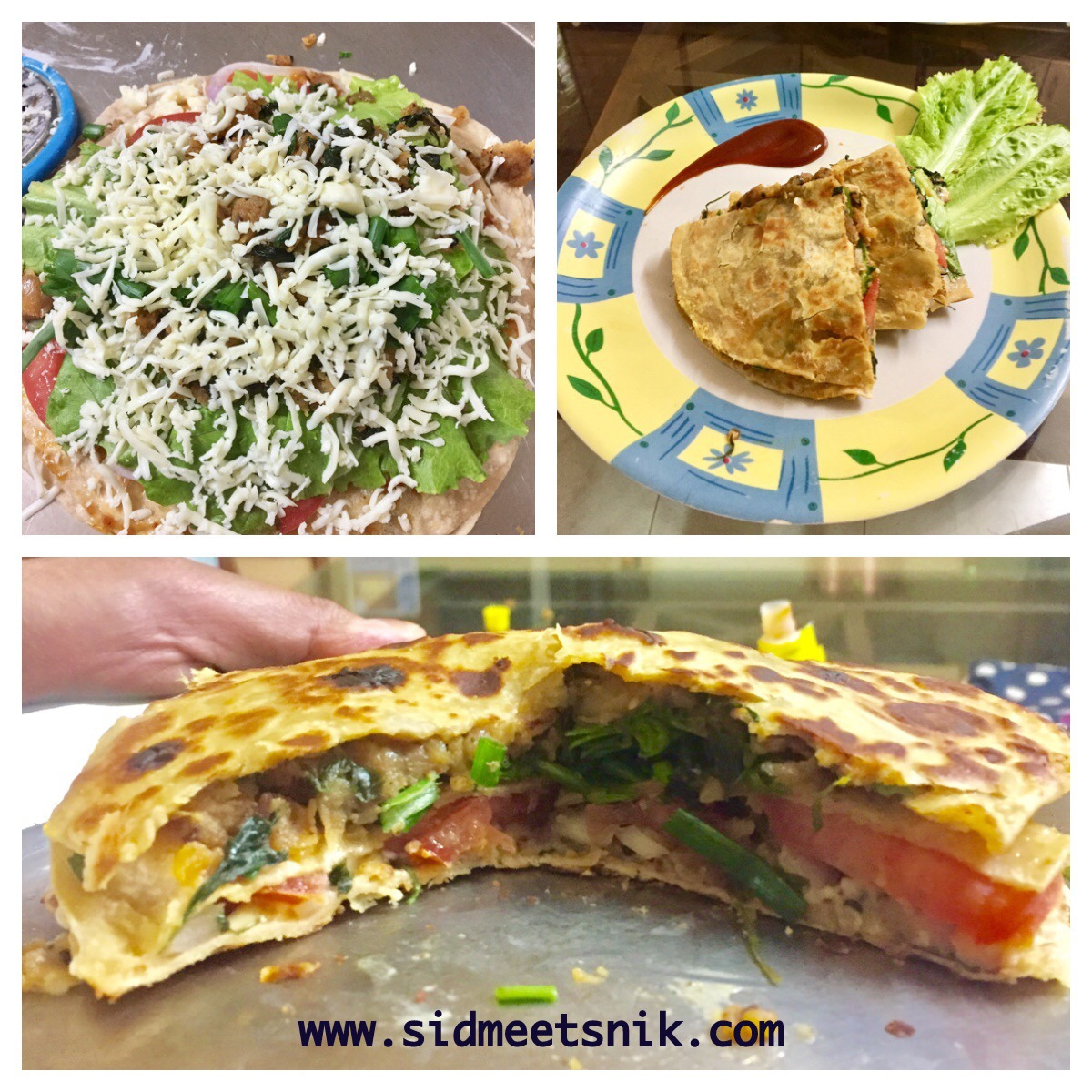 Tips and Variations for this Roti Pan Pizza
You can add vegetables of your choice to it to make it more healthy.

You can replace potatoes with sweet potatoes to add more nutritional value.

You can also add grated Panner as a filling.

Other masalas like Pav bhaji masala or inion garlic masala can also be added as per your taste.
Do try this awesome Roti Pan Pizza and let me know your views on the same.Please make sure you share your experiences and send comments so that we all can learn from each other's experiences.
Happy eating till then!!
Please follow and like us: