Top Places to visit in Paris
Top places to visit in Paris is a blog highlighting main attractions in Paris that can be covered in the duration of 3 days.
"A bad day in Paris is still better than a good day any where else".
This Phrase perfectly captures the craze for this awesome, fun and beautiful city of love which I absolutely loved since I landed here.Paris is on everyone 's mind and whoever has been here can't stop gushing about it and whoever wants to be here can't stop dreaming about it.
So as Audrey Hepburn says "Paris is always a good idea" and hence everyone should visit it at least once in their lifetime.
Paris is known for many attractions and there is so much to see and feel in Paris,but If you have limited time then here is our[Sid+Nik] list of attractions that you can check out in a short span of 3 days.
Day 1: The central Paris[the main one]
This part of Paris which I call as a central part is the most visited and the most famous part of Paris. Most of its attractions lie in this part of the city and this is where you should start with your sight seeing if you have less time in hand.
Here is my list of attractions that you shouldn't miss in the central part—–>Follow the numbers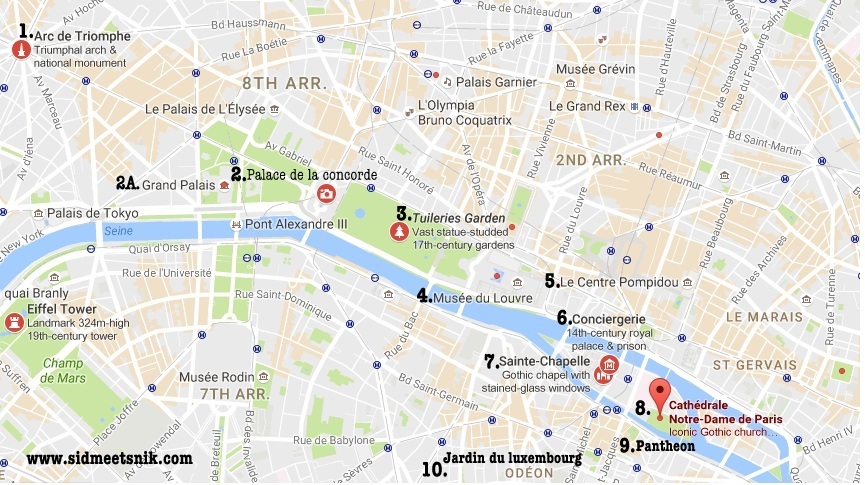 If you start walking from the point 1 which is Arc de Triomphe it takes almost 2-3 hours to reach point 8 which is Notre-Dame cathedral but this walk is the golden walk which one should not miss when in Paris.The road goes through the famous Champs-Élysées, and is breath taking. Every building and monument on this street reflects its Parisian beauty and hence the walk on this road is a must.
The total distance from point 1 to point 8 is almost 5.5 kms and point 9 and 10 are just a km away from it. One can also go to these places by metro, here I have listed the nearest metro stations for all attractions but I will surely recommend to walk around as that will give the real feel of Paris.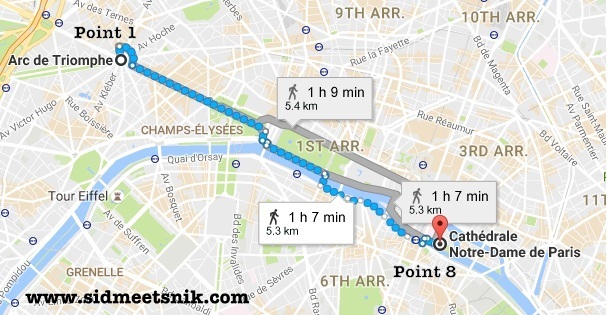 List of Attraction in central area are as follows:
1. Arc De Triomphe: Its a Triumphal arch and national monument
    Nearest metro station: Charles de Gaulle Etoile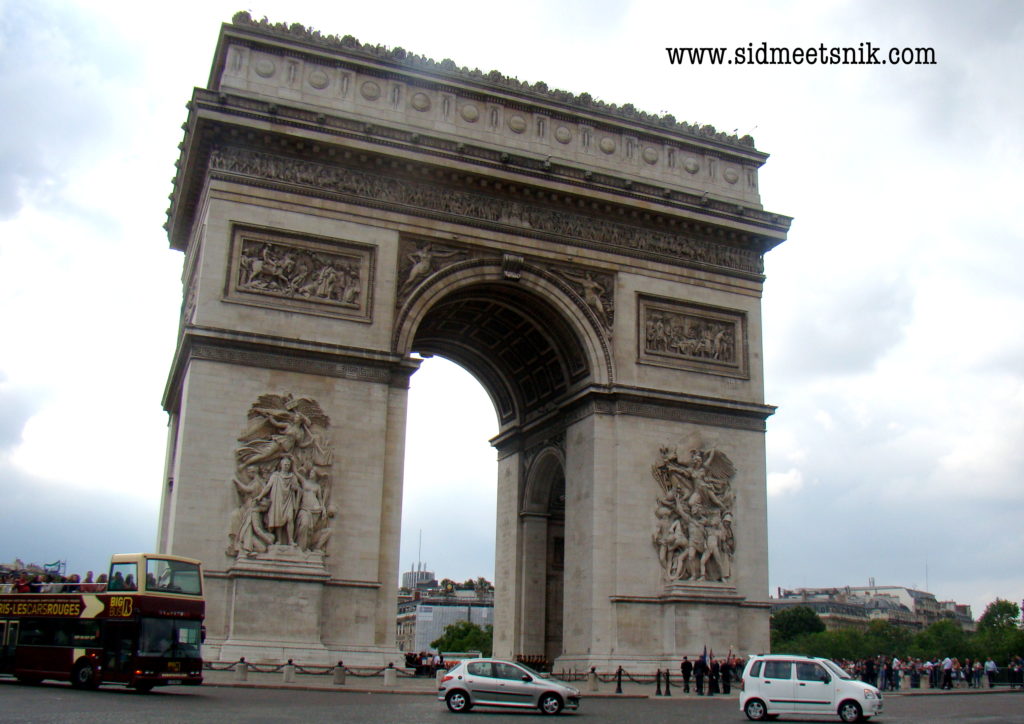 2. Palace de la Concorde: Its a famous public square which has fountains,statues and Egyptian Obelisk. It has a giant ferris wheel in its campus.
 Nearest metro station: Concorde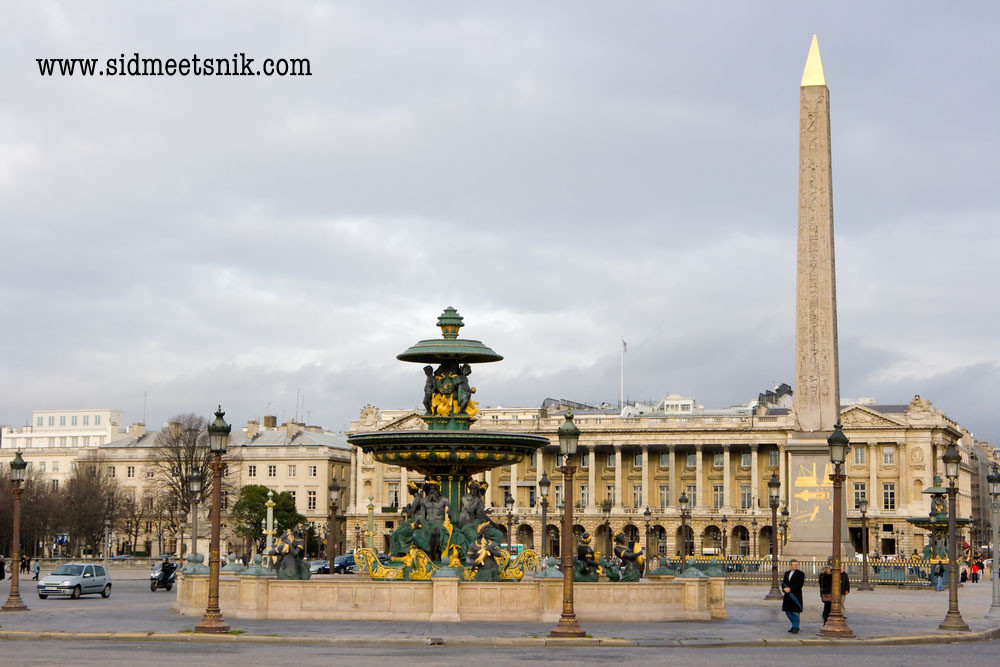 2 A. Grand Palais (Grand Palace): This was built in 1900 and has glass roof and is a house to many exhibitions and art fairs. A very famous bridge Alexander III connects it with the Invalides area near Eiffel tower. Its the most photographed bridge and has many elegant and historical statues on it.
Nearest metro Station: Champs-Elysees Clemenceau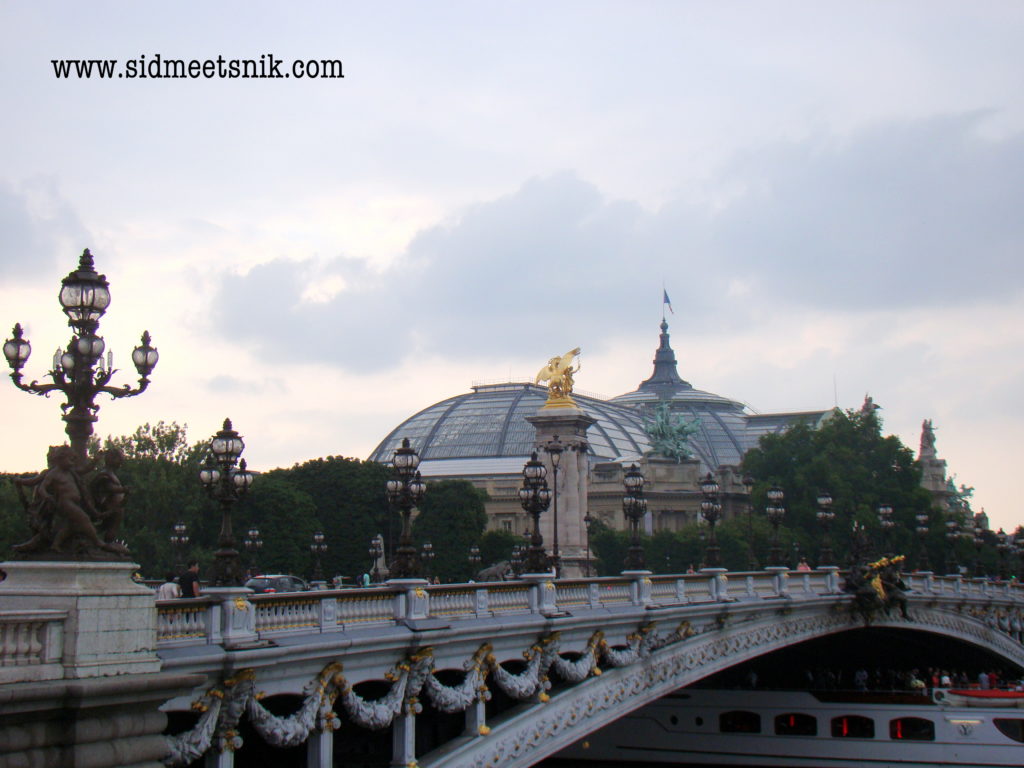 3. Tuileries garden: Its a 17th century garden which has bronze statues by Maillol.
Nearest Metro station: Tuileries
4. Louvre Museum: A glass pyramid which leads to a famous and well known Art museum with vast collection.Its a landmark of Paris and takes almost a day to see it in detail so keep aside that much       of time for it. do Check http://www.louvre.fr/en for more activities,tours and information on Louvre.
Nearest Metro station: Louvre Rivoli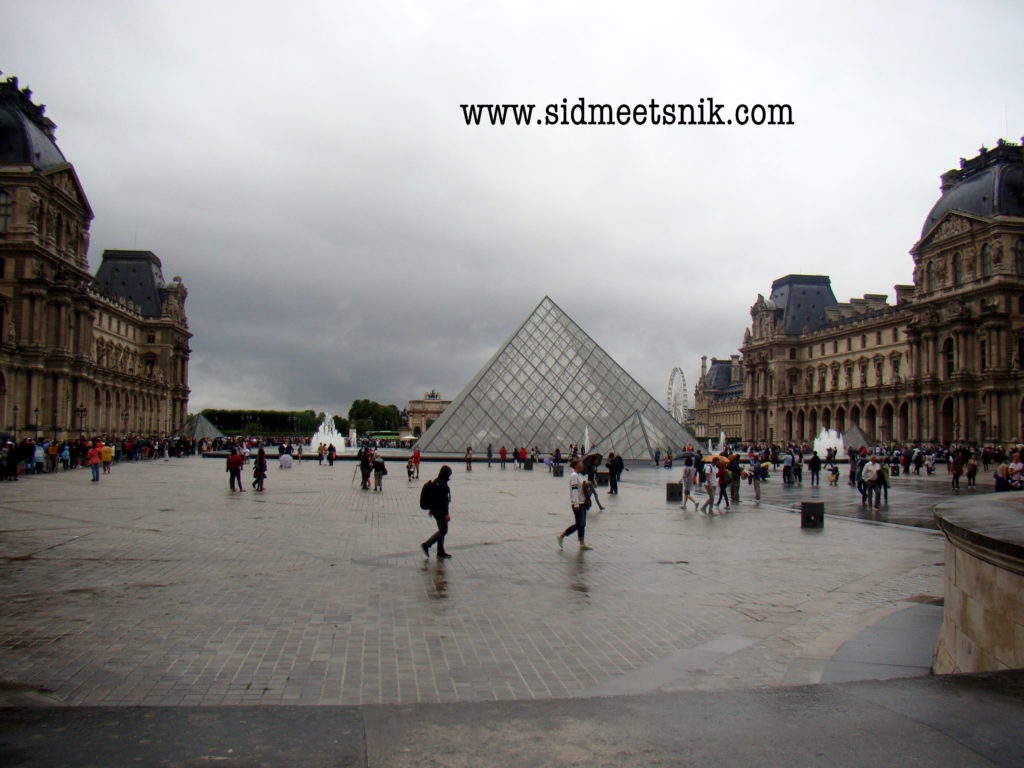 5. Le Centre Pompidou: Its a high tech architecture building having art museums ,libraries and cool stuff.The building is a reflection of new art.
Nearest Metro station:Rambuteau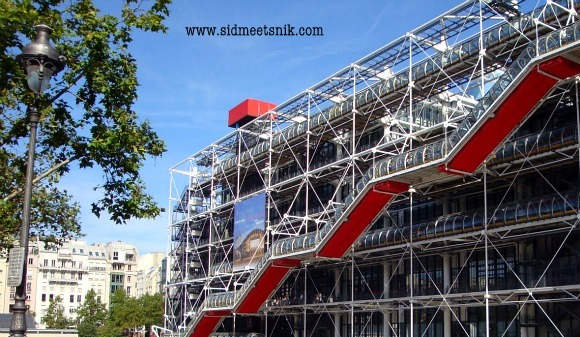 6. Conciergerie: Its a14th century Royal Palace and prison.It looks beautiful at night.
Nearest metro Station: Cite and Chatelet (both are near)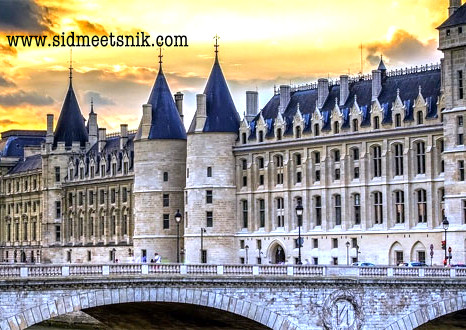 7. Sainte Chapelle: its a Gothic chapel which has stained glass windows.It looks similar to Notre dame but the interior is unique.
Nearest metro Station: Sainte Chapelle and Cite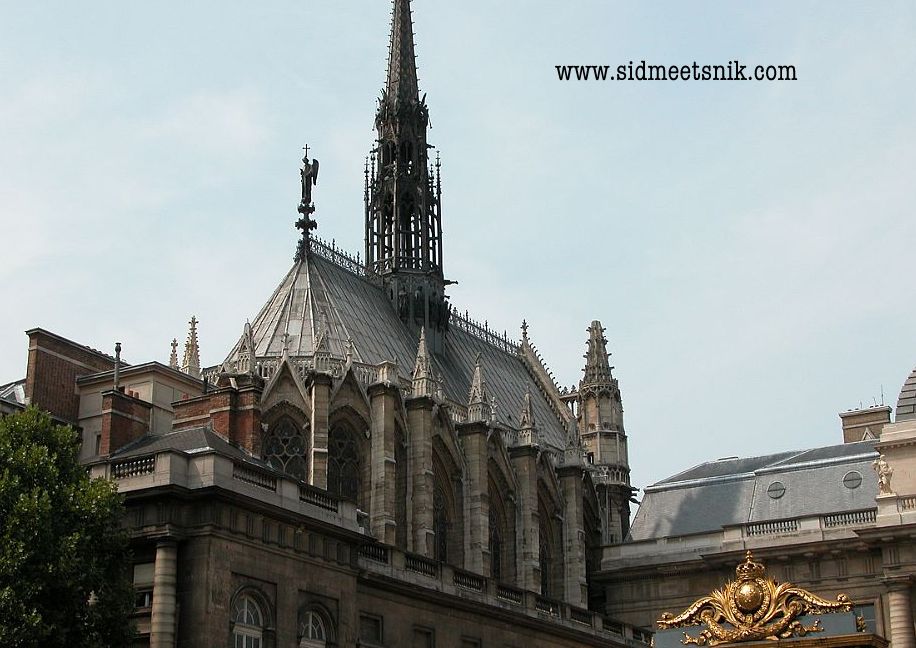 8. Cathedral Notre-Dame: Iconic gothic church and must visit church which stands by River Seine. The back and front views of this church both are magical and its the oldest church in Paris.
Nearest metro Station: St-Michel Notre-Dame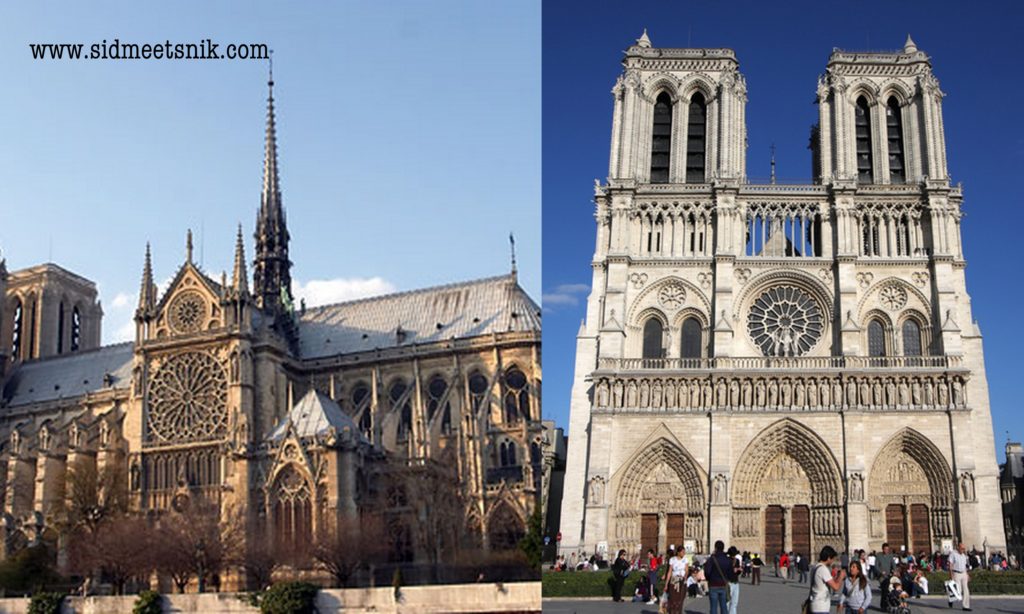 9. Pantheon- This is just a km away from the Notre dame and a famous building in latin quarter which was originally a church and now house of notable french Citizens.
Nearest metro Station: St-michel and Luxembourg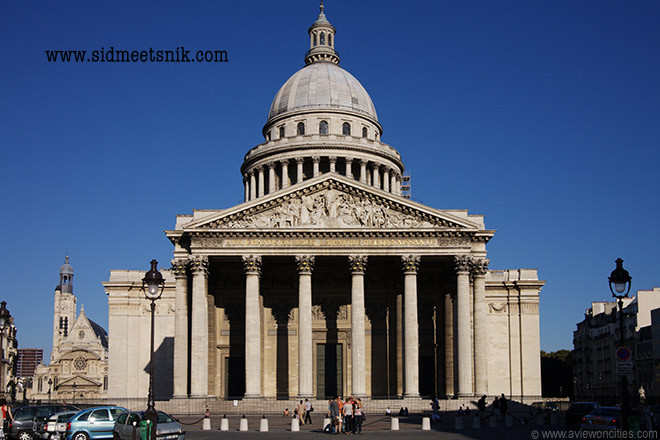 10. Luxembourg Gardens: Its a big public park which is neatly 

manicured and has many statues.
Nearest metro Station: Odeon,St michel,Notre-dame des champ.
Day 2: The Eiffel experience, in and around the Tower.
The world famous Eiffel tower is like soul of Paris and undoubtedly its the top attraction when you are in Paris.It has its own magic and the view,the sparkle,the lights and the atmosphere in and around the Eiffel is worth experiencing.
When we [Sid+Nik] were in Paris we went on the top around mid evening time when we could see the day light view. We waited on top and witnessed the Parisian sunset from up there and also saw its glory at night.More about our Eiffel experience is coming in my next blog.
So here are the top attraction near Eiffel tower
1. The Eiffel Tower:  The wrought iron lattice tower which stands tall even after so many years and which is one of the wonders of the world is a must must visit spot. You have to keep couple of hours in hand to take the complete Eiffel experience.There is huge crowd here so consider the time you will take to wait in the queue. The lights and glitter sparkle starts at 9 pm and is up till 1pm.The sparkling continues for 5 mins and is repeated after every hour.                         
Nearest metro station: Champ de Mars/Ecoli Militaire/Bir Hakiem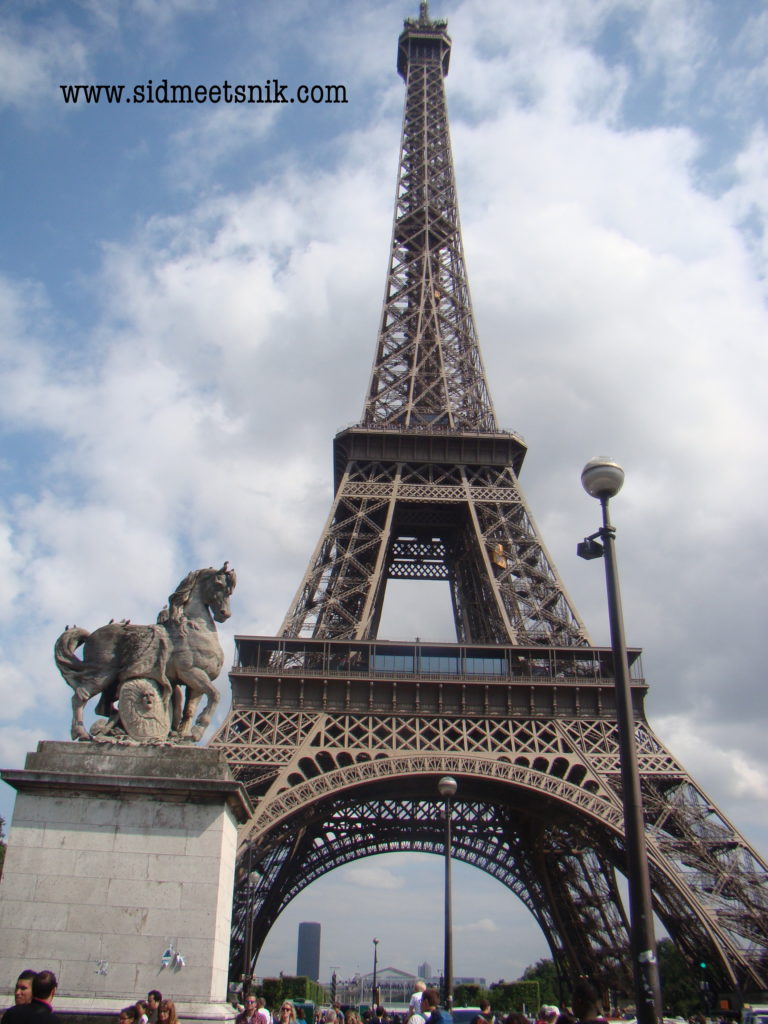 2. Palais de Chaillot: Its a palace on a hill top in front of Eiffel tower and the view of the tower from here is just awesome.This palace has 2 similar wings and all the tourist just flock here to take a perfect couple picture with the tower
Nearest metro station: Passy/Trocadero/Bir Hakiem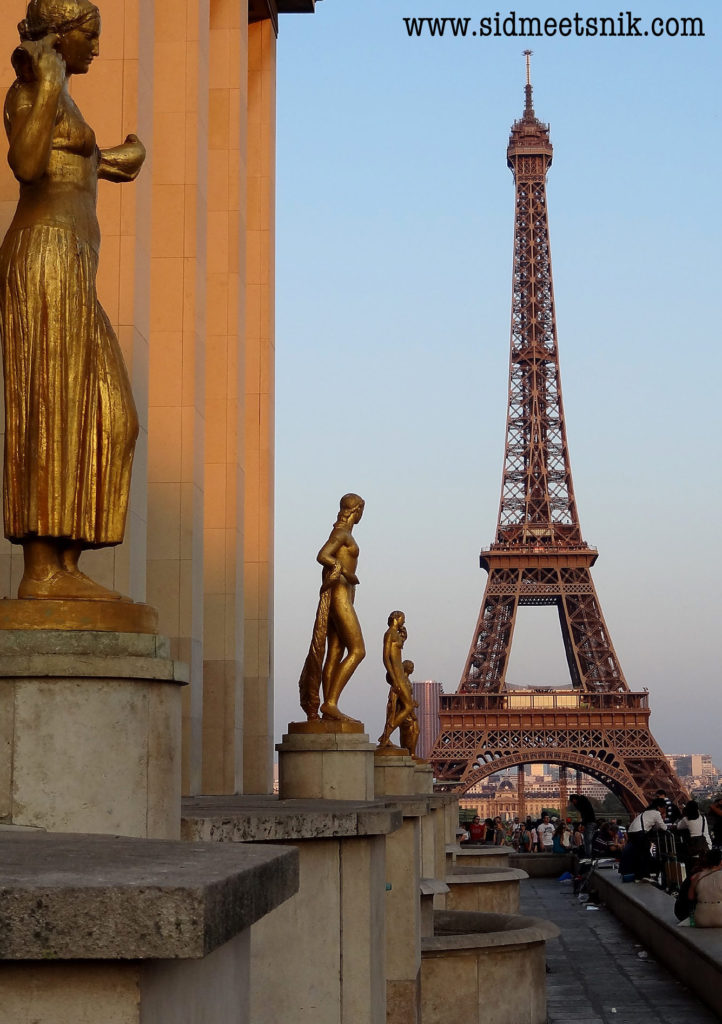 3. Jardins du Trocadero: its an open space overlooking the tower and the main feature here is the fountain of Warsaw which has 12 fountains.It is in the same surroundings that of Palais de Chaillot.
Nearest metro station: Passy/Trocadero/Bir Hakiem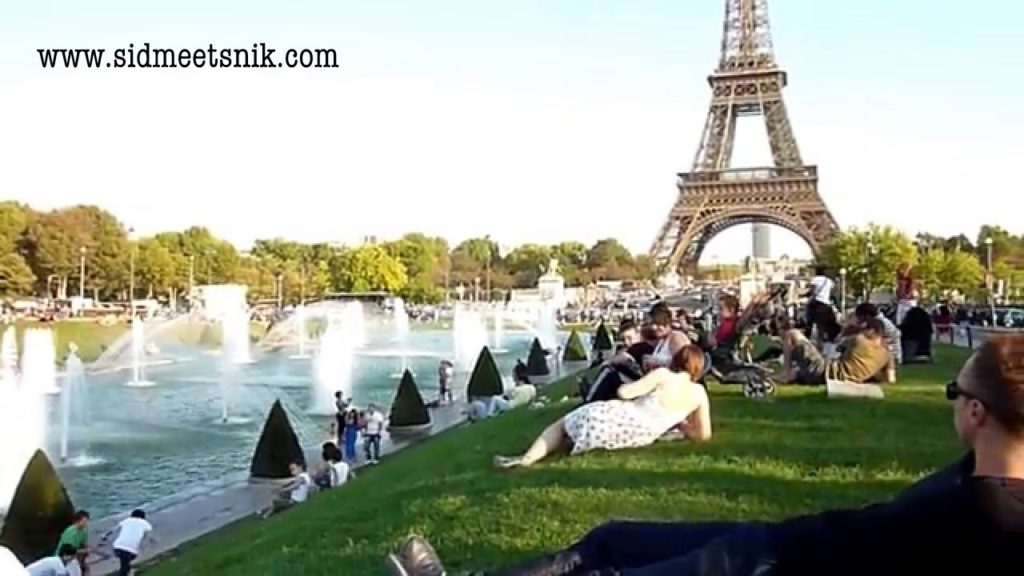 4. Champ de Mars: its the large public green space near the Eiffel where one can carry their baguette sandwiches and wine and have a day picnic enjoying the views of the tower.It looks spectacular from the tower[the pic below is of Champ de Mars taken from the Eiffel tower]
Nearest metro station: Passy/Trocadero/Bir Hakiem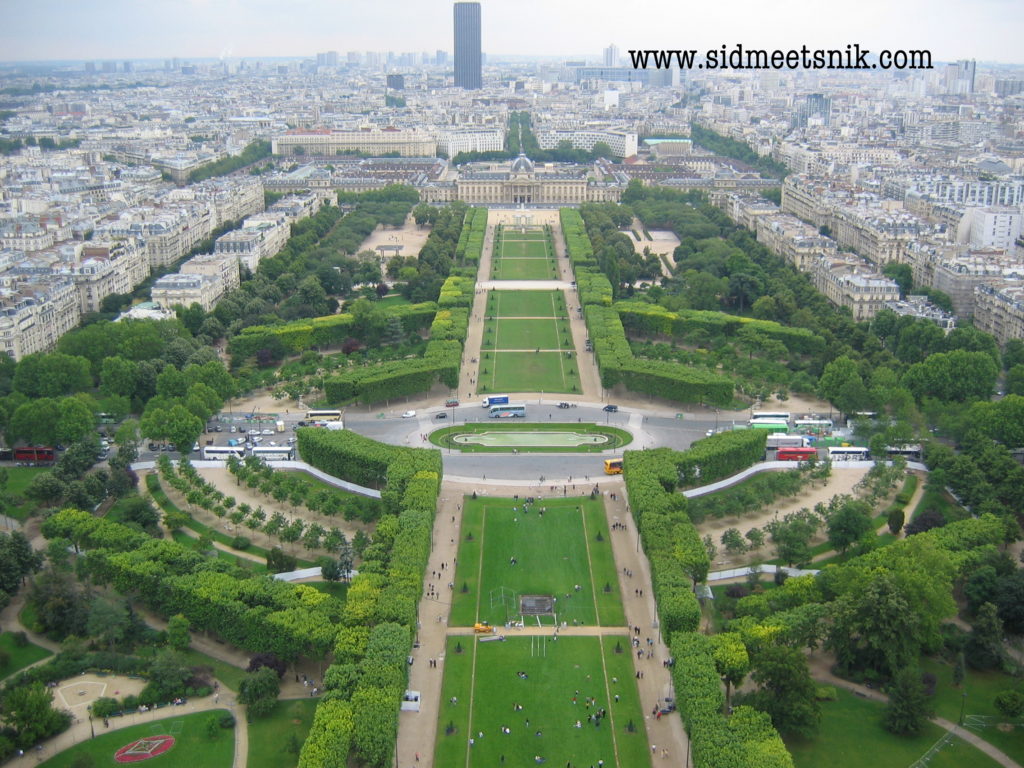 5. Les Invalides: it is a complex of buildings which is the national residence of the invalids. It has museums which reflects military history of France plus its has a hospital and retirement home to war veterans.
Nearest metro station: Passy/Trocadero/Bir Hakiem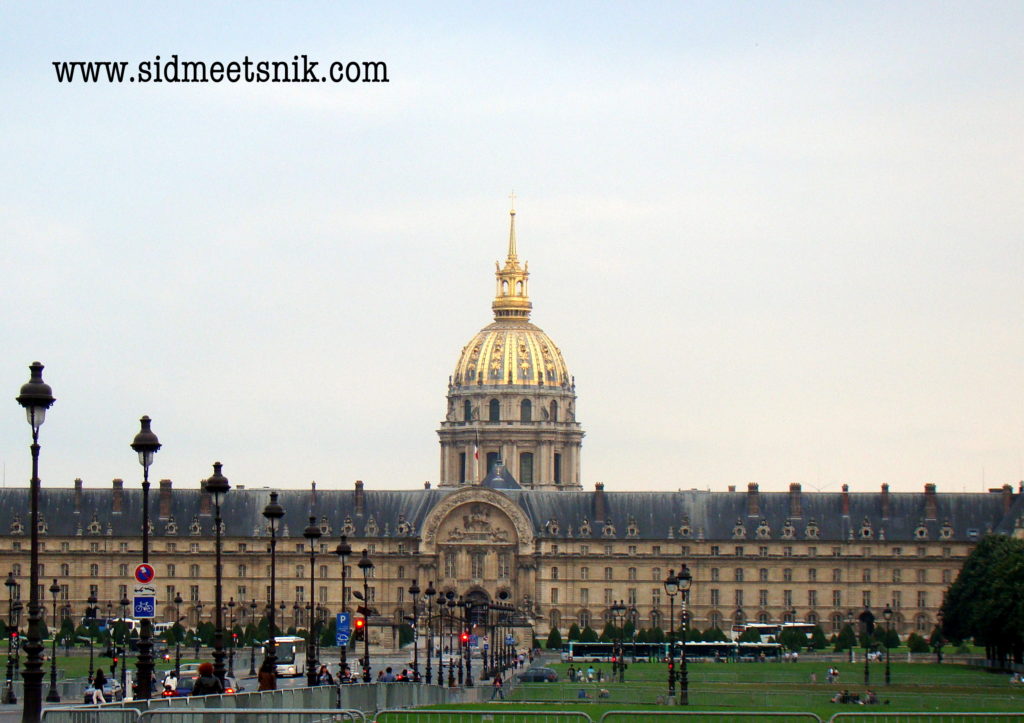 Day 3:Montmartre Area 
Montmartre area is a very nice place to meet like minded tourists and exchange information.It has nice cafes and bistros. There is also a famous restaurant here named chez toinette where one can get a bite of french cuisine.
Well known Attractions in this area are:
1. Montmarte: Its a large hill 130 meters high and is famous for its white basilica named Sacre-coeur. Surrounding the hill the whole area is known as Montmartre where many artist lived and worked in 18th century.The area gives best views of Paris.
Nearest metro station: Abbesses/Anvers
2. Sacre-Coeur Basilica: Its a huge white roman catholic church and is known for its famous stair case where tourists sit for hours together enjoying the views of Paris.
Nearest metro station: Abbesses/Anvers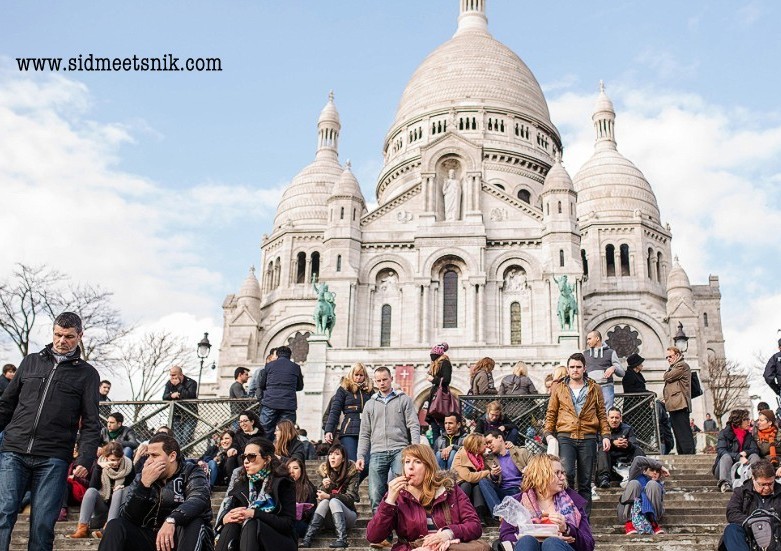 3. Place du Tertre: its a a square full of cafes, street artists, and great place to hang out.
Nearest metro station: Abbesses/Anvers/Lamarch-Caulaincourt
4. Moulin Rouge: its the biggest and oldest cabaret.
Nearest metro station: Blanche/place de cliche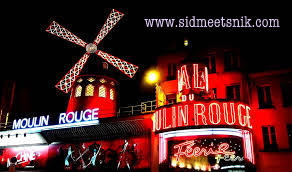 Paris has many more places to offer and it takes time to see and feel it but this is what one can cover in a short span of 3 days. If you have more time then there are places like:
1. Palace of versailles and gardens: its a royal Chateau with contemporary architecture facing french style landscaped gardens.
2. Latin Quarter- its filled with cafes,restaurants and bistros and is perfect to explore night life.
3. Catacombs of Paris- its a tunnel which is filled with millions of skeleton.
4. Palais Garnier- its a italian style opera house with library museum
Paris cannot be seen in 3 days but the places I have mentioned here will definitely give you an idea and glimpse of this beautiful and awesome city.
Its not important to hop and see all the places but whats important and matters is to experience and explore the city in your own way and make yourself a traveller rather than a tourist. So start planning your Paris trip now and don't forget to share your experiences with us.
I am waiting to hear your amazing stories about Paris.
Please follow and like us: