Things to do in Europe
Things to do in Europe is our (SID+NIK) personal list of things to do when in Europe to have unlimited fun.
These things which we have suggested here are general things but unique, different, easily feasible and budget friendly.We are sure these things will enrich your European trip experience by many folds,so try it out and share your thoughts with us.
While making a trip to Europe many people do things like attending an Opera, gulping those Pilsner Pints of beer, seeing great art works, sailing around on the isles, looking around the old ruins etc etc but whatever you do and wherever you go, there are some things which you cannot afford to miss.These things are in my blog.
Last summer, I visited this amazing place with Nik and had an incredible time there. We visited some of the most romantic, famous and well known cities like Paris, Rome, Venice, Prague, Munich, Leipzig and I can't tell you how rich I became after having my European experience so I felt like documenting it and sharing it with you all.
There is so much to do when you are here but Europe can be a costly affair still in spite of the cost, there are some small things which are equally important.
These things are free but are easily missed out, but those are the most important things which gives amazing memories later so here is my awesome list of things to do in Europe
Things to do in Europe: 1-Take the train experience and travel by Eurail ie Eurorail
A must must do thing when you are traveling to Europe is traveling by rail Europe. Taking a Eurail global pass was one of the best decisions which we took while traveling in Europe(http://www.eurail.com/eurail-passes/global-pass).It costed us 980 euros,as we took a couple pass but through it we could enjoy first class travel within any countries to and fro.
The best part of it was it gives you flexibility to travel to and fro to any destination any number of times in that specific period. 
Another amazing thing about the trains here is, they offer some breathtaking views and showcase beautiful landscapes which you can enjoy over a cup of coffee or with a good book.
Just download the Eurail train planner app and get set go to travel to Europe by Train.  (http://www.eurail.com/plan-your-trip/rail-planner-app).
Things to do in Europe: 2. Walking, walking and more walking.
The most romantic thing to do when in Europe is to walk rather than opting for a hop on hop off bus or a taxi. If you are fan of romance and have seen some fantastic films like 'Before sunrise' and 'Before Sunset' or 'Letters to Juliet', you must have definitely imagined yourself walking through those cobbled streets hand in hand with your lover.
A sweet short summer dress, comfortable flip flops,a gelato in hand and long long walks through the lanes and piazzas are sure shot ways of getting that incredible smile on your faces.Its amazing to walk in day time when sweet shiny sun rays fall on your face and make it glow.
By walking in the interiors you can see the real Europe which you can take back with you and which stays with you forever.
Things to do in Europe : 3 – Talk, yes I mean real conversations.
I don't know and haven't really understood how people can just sit quiet at a dinner table.I know its a part of etiquettes and all but when in Europe and while eating great food with wine,conversations play key role.If you are travelling with your spouse or lover then, talks can get even more romantic and nice but even if you are on a family vacation you have to enjoy the 'talking part'.
Yes it's an art and many a time when we are on vacation, especially in Europe we are just juggling between countries and cities and places that we just miss out an important aspect of travel which is spending quality time with someone or with our own self so what's better than talking your heart out while enjoying a great view or a great meal.
Things to do in Europe : 4 – Meet the locals and try to spend at least one evening as the locals do.
The locals will definitely tell you the inner most things that you haven't read in any of those travel books.They will tell the hotspots to must visit so definitely try to strike a cord with some of the locals. If you have friends or have a distant pen pal its wonderful but even if you don't have anyone just try to get information from people around. Your hotel manager or your taxi driver or a shopkeeper or a local vendor which can tell you some amazing facts about the city and can suggest what is to be done when you are in that part of the country.
When you meet a local you can experience their type of living.We we were in Rome, we met one amazing friend who was also our Bread and Breakfast manager.He accompanied us to some nearby places and also explained some key facts about the city. He also suggested some amazing restaurants for us considering our pure vegetarian preference.
I also met my dearest friend Amrapali who was studying in Germany at that time.She proved to be the perfect host and showed her city and explained the history that added a different charm to our sightseeing.
Traveling with locals always makes you feel you are one of them and hence it's a special experience which I will definitely recommend.
Things to do in Europe: 5-Enjoy an open air picnic and food takeaway.
Any travel is incomplete without great food and European culinary skills are to die for. Many travellers come here for its artistic and mouthwatering food but what's even better is to parcel your food and eat it ourdoors.
Imagine your favourite meals at open spaces under the sky or by the river or a in a garden or by a canal.Nothing can be more relaxing than this and if you have all the time in your hand to extend this picnic till the sun sets, its just perfect.Local musicians playing around can create an enchanting atmosphere which can enrich your dining experience even more.
And what could be more romantic than sipping some good wine, hearing some amazing beats and having freshly made local food all under the sun.
We had one such meal near River seine and that meal is one of the best ones I have ever had and is incomparable to any of the meals I had in fancy restaurants so guys its bang on.
Things to do in Europe: 6- Enjoy Cafe culture and open restaurants of Europe.
Having Coffee in Europe is not having Coffee anywhere else as here people just take break to enjoy  their cuppa. When in Europe definitely take as many 'Coffee breaks" as you want and eat vegan cakes, bagels and croissants with your Coffee. My recommendation is Don't hit a Starbucks to have coffee but search for a typical old european local cafe and enjoy the hot cup the european way.
Another unique thing about Europe is its open restaurants.Open cafes and restaurants are unique things about Europe so indulge yourself in some great and cheap food from road side cafes.Also at night check out the great bars that add to your experience.Not to forget BEER is must when in Europe.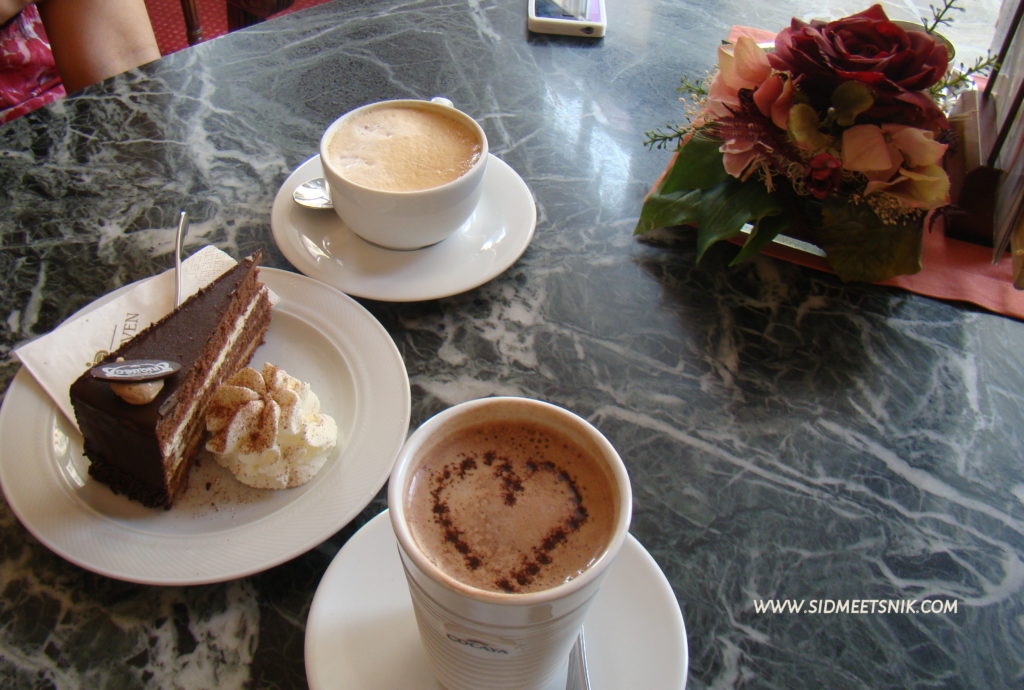 Things to do in Europe: 7- Explore the Farmer's Market or open vegetable and fruit Markets.
As I am a big foodie and a cook myself I am always eager to know what local people eat here on their day to day basis.Exploring the farmers market and open vegetable or fruit markets give you the idea of what people eat and about local and generic veggies and fruits that grow in that part.This way one can try some new vegetables or spices or rare and untasted fruits.So definitely visit such markets when in Europe.
Travelling is always fun and its not always important as to what we see but how we see it. To enrich your rendezvous with Europe definitely do all that I have written and share with me your unforgettable experiences.
And always always…… KEEP TRAVELING….:)
Please follow and like us: