Tawa Tortilla 
Tawa Tortilla is a blog about a breakfast dish or a snack dish which can be cooked from minimum ingredients.It is a dish that can be made from leftover food and is very simple and easy to make.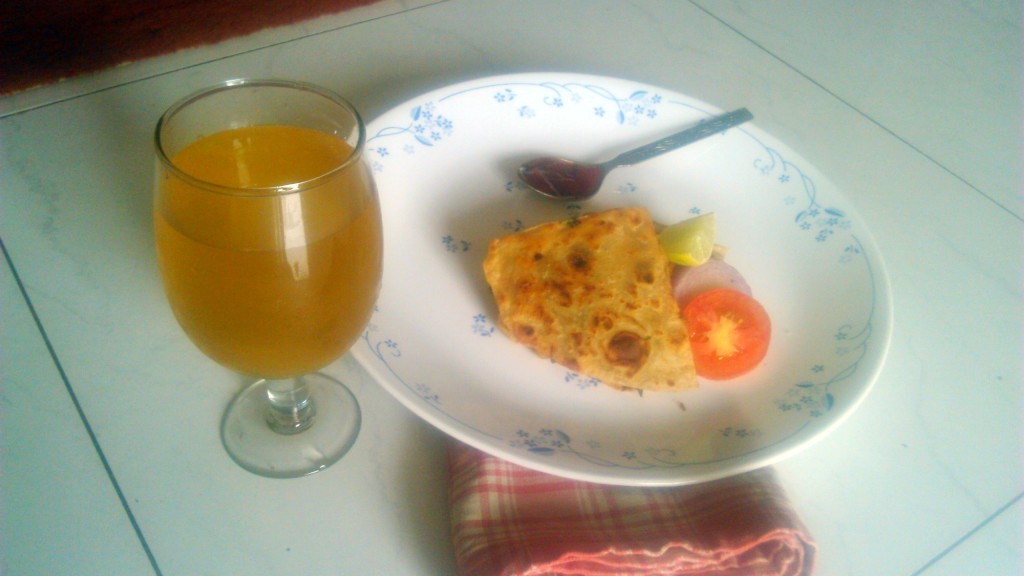 This is quick and easy and a perfect recipe for bachelors as well as for those women who are on a go.Once when I was really hungry and alone in the house and was bored of eating normal chapati or roti with sabji, I revamped the meal and made this awesome Tawa Tortillas out of it.
This recipe can be made from all the left overs or anything that you get in your refrigerator.It can be cooked with very less ingredients which are normally available in each and every kitchen. Plus the ingredients are not fixed and you can mix and match it according to your taste.
So get ready to make some simple but amazingly and tasty TAWA TORTILLAS
Serves : 2
Ingredients:
Vegetables:
1 boiled potato( peeled)

2 onions

2 tomatoes

7 to 8 (handful) of french beans

7 to 8 leaves of spinach

4-5 florets of broccoli
(In this recipe you can use any vegetables of your choice just make sure there is potato in it as it makes the binding stick to the tortillas)
Other raw Ingredients:
2 tortillas/rotis/chapatis/parathas

2-3 spoons of oil

2 teaspoon of butter or Ghee

2 green chillies or red chilli powder

1 tea spoon cumin seeds

1 tea spoon Pav bhaji masala(you can use garam masala, or onion-garlic masala or any masala of your interest)

salt

1 or 2 teaspoon lemon juice
Method:
Keep a vessel filled with water on the burner and let the water in it boil.

Blanch the vegetables like spinach,french beans and broccoli in it(blanching means adding these vegetables to boiling water and after a couple of minutes transferring it to cold water). Blanching adds a extra crunch in the vegetables and prevents it from over cooking.

Cut onions,tomatoes and boiled and peeled potatoes in small cubes and keep aside.You can also grate the potato if you want.

Similarly cut all the blanched vegetables like spinach,french beans and broccoli in small pieces.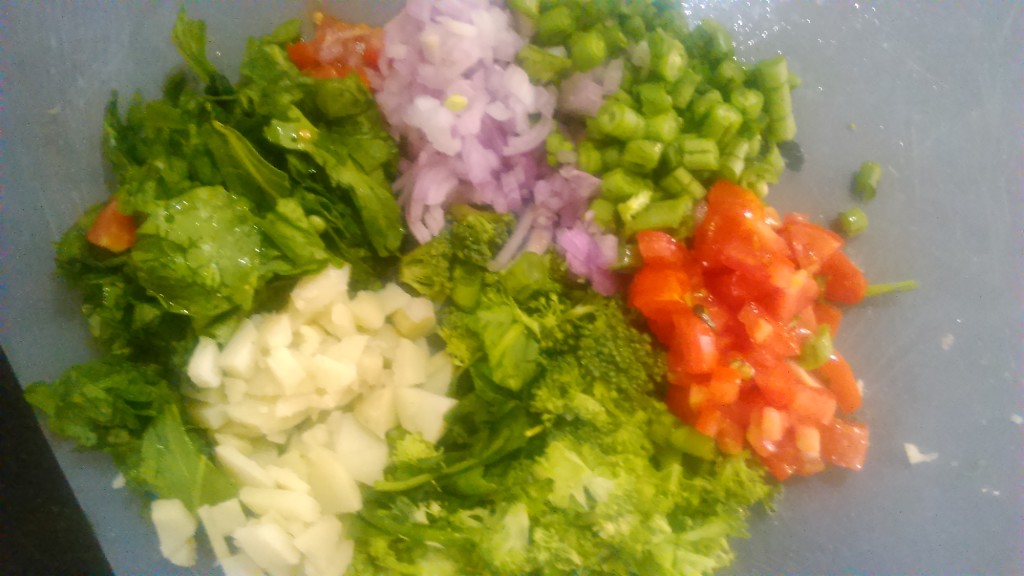 Now take a non stick pan and add one teaspoon of oil

when the oil is hot add cumin seeds and let them pop up.

After this add all the vegetables one by one starting with onions and ending with tomatoes.

Let the vegetables cook for 4-5 mins.

Add salt and any masala of your choice to the vegetables(I have added Pav bhaji masala here)

Also add nicely cut green chillies or red chilli powder according to your choice in it.

Squeeze in half a lemon or add 2 teaspoons of lemon juice to the mixture and keep it aside.

Your filling for the tortillas is done.
Method for arranging and roasting the tortillas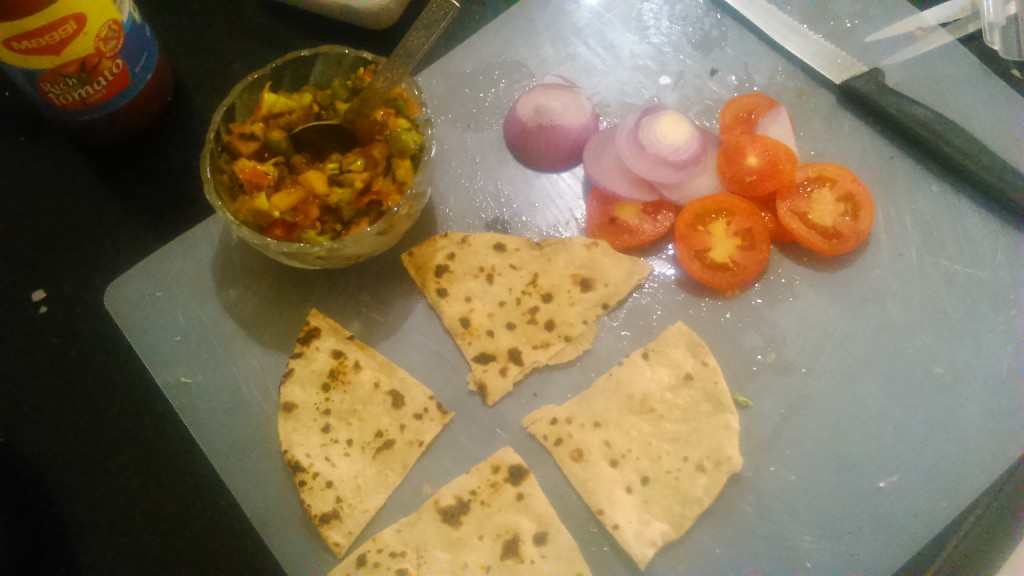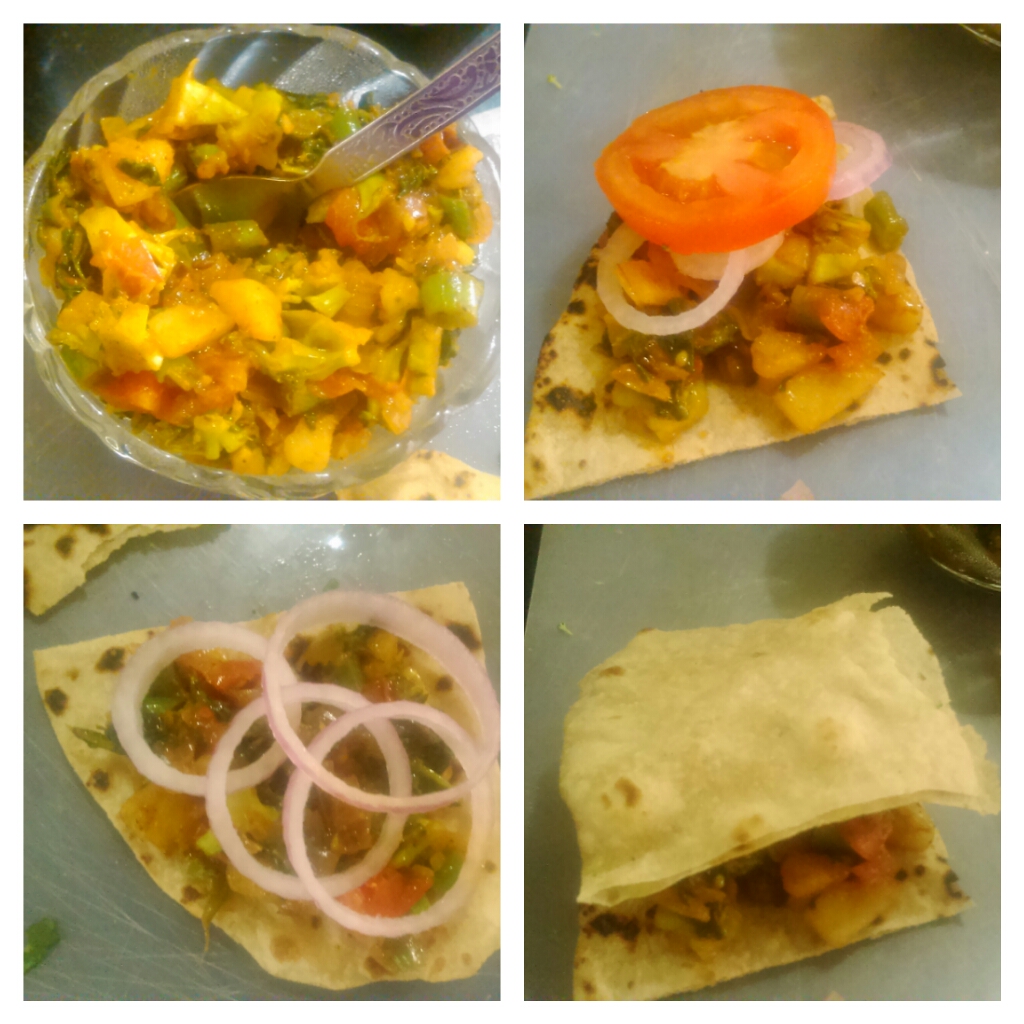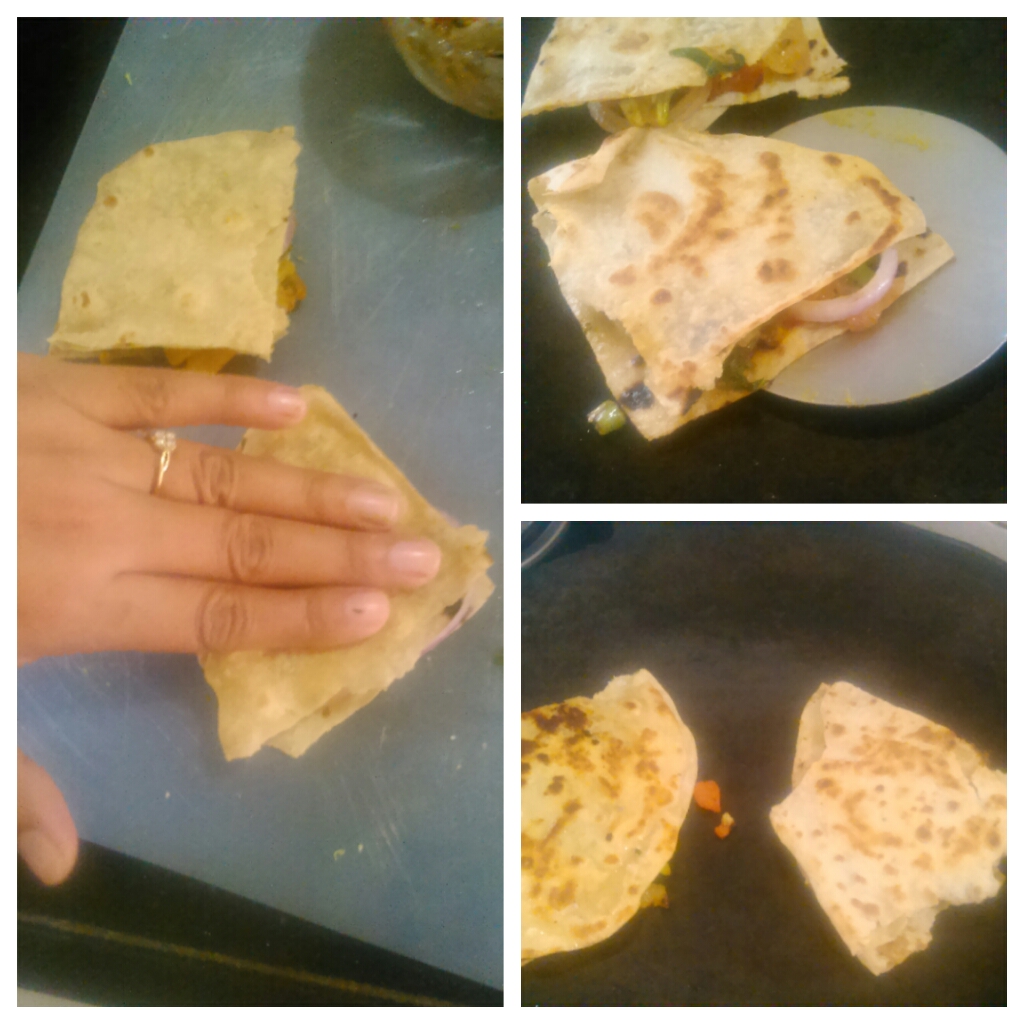 Take one tortilla and make 4 sections in it

Now on one section spread the filling equally, as to cover the whole part of tortilla

Top it up with onions or tomatoes if you want that extra crunch.

Cover the filled tortilla with another piece of tortilla.

Now take a non stick pan and add one tea spoon of butter

When the butter melts, roast this filled tortilla on it for about a minute. The side which is on the pan turns crispy and hard.

Flip the tortilla and let it cook from other side too.

If you want them to be more crunchy and hard cook it for more than a minute.

The colour of the tortilla changes,this is the time when you can know that it is done.

Serve with tomato ketchup or any green chutney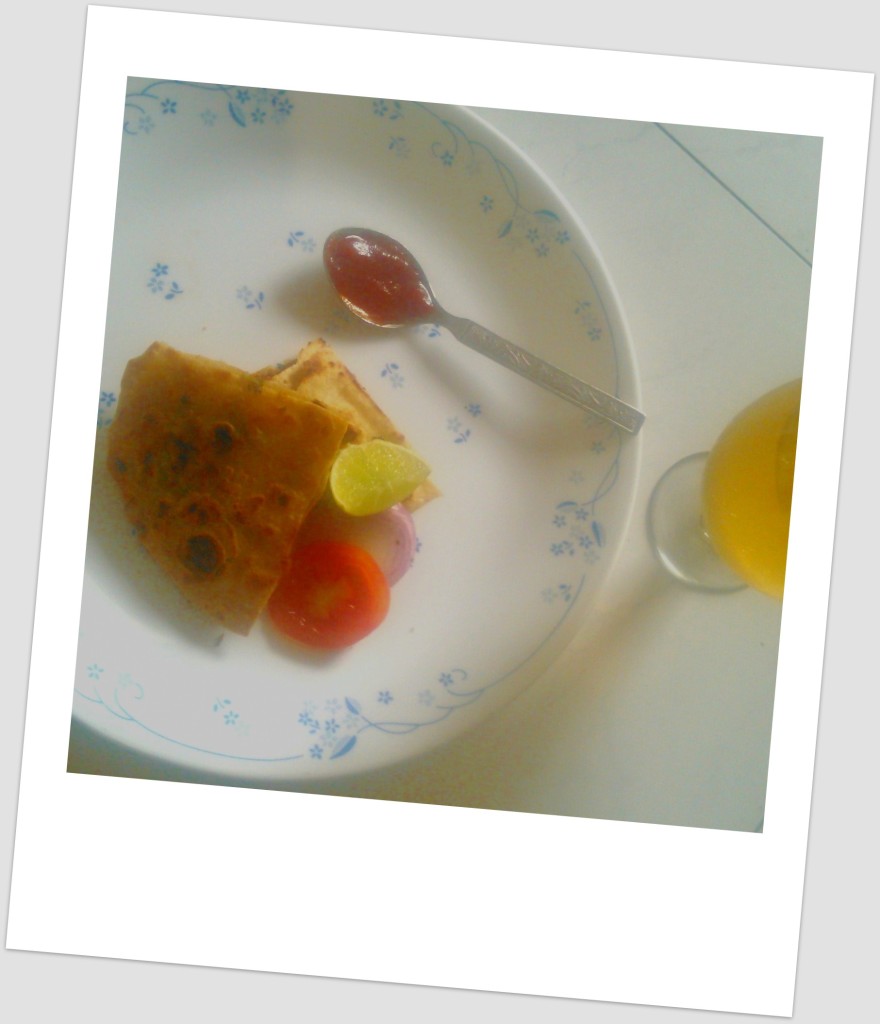 Variations
You can add grated cheese on the top

Paneer can also be added in this dish

These tortillas can also be rolled and then roasted if you want to carry it in a tiffin or take it for a take away picnic.
Please follow and like us: