Gudi Padwa- Celebration of New Year and new You
Gudi Padwa is an Indian festival which marks the first day of Hindu calendar according to lunisolar system(http://(https://en.wikipedia.org/wiki/Lunisolar_calendar)
It has different names and is celebrated in different ways.In south it is celebrated with the name Ugadi orYugadi. In Maharashtra it has a name of Gudi padwa and it is the first day of Chaitra Shukla Pratipada (http://(http://www.hindujagruti.org/hinduism/festivals/gudhipadwa) which is considered the beginning of new things.
As India has agricultural background and as it is the main occupation here, Gudi Padwa holds a special place for farmers as this is the day which marks the end of one agricultural harvest and the beginning of new one.
Historically Gudi Padwa was the day when Lord Rama returned to Ayodhya after winning over Ravana. This was the day when people hoisted a Gudi outside their homes as a symbol of victory and welcomed Rama with open hearts.
A traditional Gudi is made of wooden or bamboo stick which is tied by zari cloth in bright colours.Along with that flower garlands,twigs of mango and neem leaves,sugar candies are tied to the stick and a copper or silver pot is placed on the top end of the stick in inverted position. This Gudi is symbol of good luck,prosperity and sound health.
Indian festivals are incomplete without its traditional food.Our family being typical maharashtrian hindu,we cook delicacies like 'shrikhand-puri' and 'Puranpoli' on this auspicious day and enjoy it without thinking of the calories.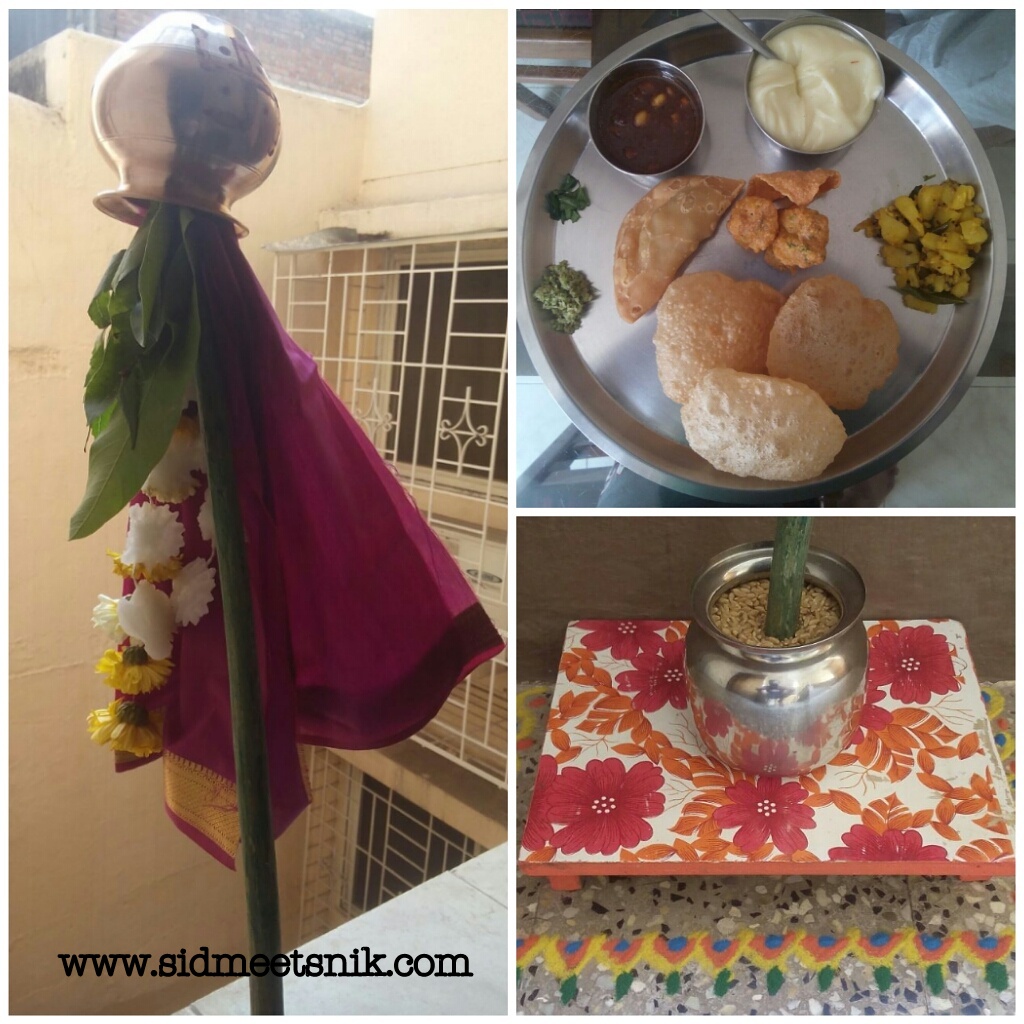 In todays's world when everything is changing so fast and life has become hectic these festivals are celebrated as a mere celebration and the true meaning of these festivals is lost. Gudi Padwa to many people is just like a normal new year where they place a Gudi in front of their doors,eat traditional sweets and forget about what is the real meaning of it.
So what is the real meaning of this festival?
Everyone can take a different meaning out of it and everyone can have different thoughts about this but for me it signifies killing the impurities within us and feeding the positive.
My thoughts over this are little different and I think Like Lord Rama won over Ravana,everyone should win over their weaknesses too.
I think we all have 'Rama' and 'Ravana' dwelling and residing inside us which symbolises Good and Bad.What matters is to whom we feed and let grow.If we want to be a good person its important to nurture the 'Rama' inside us and kill the 'Ravana'. It should be the battle of Good Vs bad and positive Vs negative. There should be victory for all of us on our negativities and we should conquer our fears.
To achieve what we want and to be fearless the sanskrit mantra of Ram Raksha Stotra (https://en.wikipedia.org/wiki/Ram_Raksha_Stotra)  is suggested by many learned gurus of India. This stotra has amazing benefits on your body and mind and is a tongue twisting mantra which clears your throat and makes your pronunciation clear and correct.It focuses on each and every body part and helps to eliminate all the impurities in the body.
I think festivals should be enjoyed without forgetting their underlying meaning.If we can keep the body and soul of each and every festival alive we can enjoy it to the fullest and can pass it on to the coming generations.
So this Gudi padwa,identify your flaws, work on them, try to win over them and recite Ram Raksha stotra atleast once a day(https://www.youtube.com/watch?v=JOStVby1xNk&nohtml5=False). If you can do this then that will be the real new year celebrations of Gudi Padwa.
On this note, we (Sid-Nik) would like to wish you all a very happy, hopeful,prosperous,healthy and happening Gudi Padwa and New year!
Let the transformation begin.
Please follow and like us: