6 Quirky and offbeat places in Prague
6 Quirky and offbeat places in Prague is my blog about all that unusual and wierd things to see and visit when in Prague
Prague is the only historical city standing tall after 1000 years and thats why apart from its beauty and charm there are many quirky things here.This earthy capital has a dark side and here are my picks if you want to explore it when in Prague.
6 Quirky and offbeat places in Prague- 1 The underground side
The old town area that we see today was not originally the same as it was elevated many folds because of the floods and the city level once was many many meters down. A whole new city lies beneath the existing city and there is many things to catch up here.Exploring this dark and gloomy side of Prague is a adventure ain itself but we(sid+nik)loved it.
There are many underground tours that are arranged in Prague(http://www.prague-underground-tours.com/underground-home-page) and is a thing to do if you have a historical and archeological bent of mind.
6 Quirky and offbeat places in Prague- 2 Visiting the Bunker museum
Want to know how it must be at the time of cold war and which weapons must be used ,then do visit Bunker museum which preserves all the war items of a nuclear weapons age.Its compulsory to take a guide if you want to visit this and self visit is not allowed.Check this (http://www.prague-nuclear-bunker.com/museum-home-page) for more details and guided tours.
There is also a Bunker nightclub named  Bunkr Parukarka ( http://www.parukarka.cz ), where you can go inside teh nuclear bunker and enjoy clubbing.clubbing.
Location: it is in Praha 1 area, 5 mins walking distance from Old town.
6 Quirky and offbeat places in Prague- 3 Visit the Bone church in Kutna Hora
Kutna Hora is not actually in the city of prague but is little bit far from the city. You can take a bus to reach here.This place has a rare and unique kind of church which is made of bones.
The name of the chapel is Sedlec Ossuary (https://en.wikipedia.org/wiki/Sedlec_Ossuary) but is famous by the name of a bone church. This church has a chandeliar made up of bones and has thousands of skeletons arranged in form of decorations. This is quite a creepy place which we missed our first trip but is on our list the next time we visit Prague
Location: takes almost 1hour 10mins to reach from Prague( by bus it takes little longer but Bus number 318, 381 and 125 run at regular intervals)
6 Quirky and offbeat places in Prague- 4 The used shoe display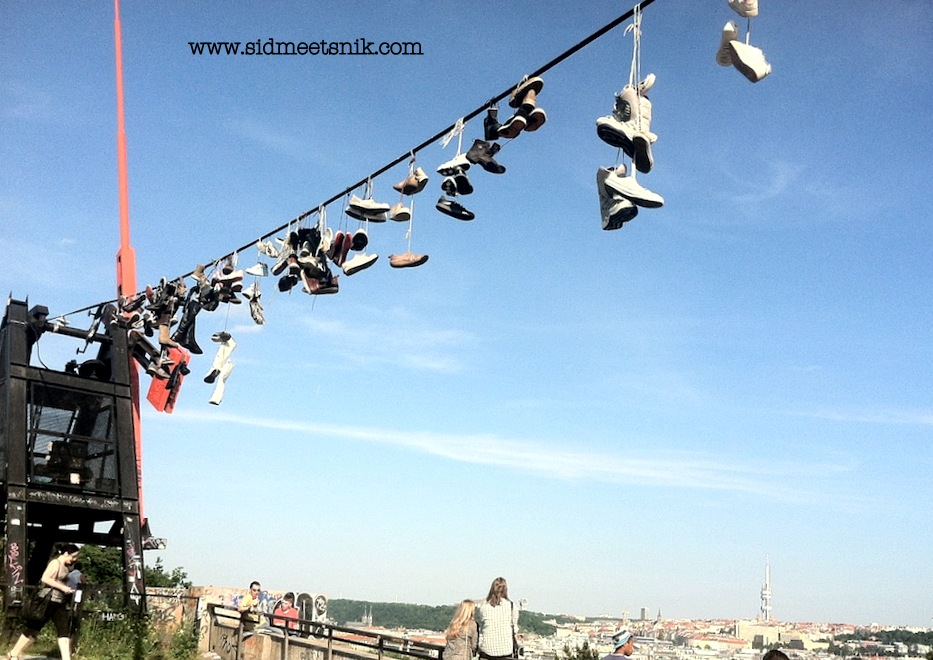 Just as you walk up to the letna park and come close to Metronome(it is a musical device that ticks at a particular time) you can see hundreds of old shoes hanging by the cable around the Metronome. The area beside the metronome was once famous for skateboarders and they used o come here from all over Europe.
There are many weird stories connected to this shoe hanging but the view is quirky weird and offbeat for sure.
Location: About 15-20 mins walk from Old town park( to climb up the hill may take time)
6 Quirky and offbeat places in Prague- 5 Searching for alchemists
It is believed that many alchemists resided in this capital city of Czech republic and were successful in extracting gold out of metals.If one wants to experience the beauty of alchemy then Visit to Museum of alchemists and magician is must.Do take a guide to know the historical importance and with that you can enjoy the tour in a better way. There is also a ghost museum in here…quite creepy isn't it?
Location: 1.8 kms from Old town, about 25 mins walking distance
6 Quirky and offbeat places in Prague- 6: the fountain of Proudy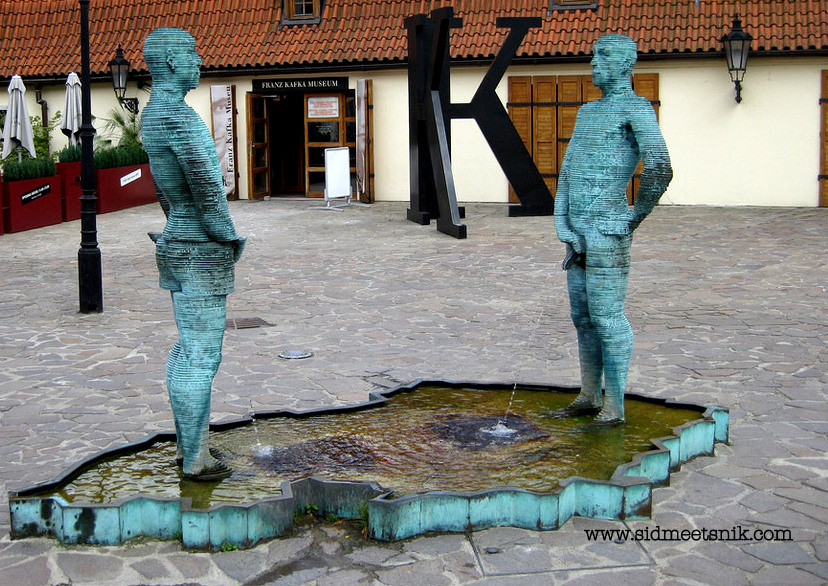 The fountain of Proudy caught our attention as from a distance.I actually felt that a man is peeing on the road….ewwww, but when we went close we saw that it was actually a bronze statue of two men peeing facing each other.Its inside the Kafta Museum.
Location: It is 5 min walking distance from the famous Charles Bridge
Prague is full of amazing places,monuments,museums and bits if art works here and there.It all depends on what interests you and how much time you have in hand to see all of these. These were some of the offbeat and quirky places that we visited, but don't hesitate to add your places here too.
If you want to know other things to do in Prague just check out my Blog on the same.
Till then keep travelling and keep exploring
Please follow and like us: