15 Things to do in Prague
15 things to do in Prague are my personal favourite things that I enjoyed with Nik when we visited Prague for the first time.These things capture every essence of Prague and are worth experiencing.
Prague is the most beautiful city and is a jewel of Czech republic.There is so much to see and do here that tourists can get lost and confused as to what to do and see in this beautiful city. Thats why I am giving our favourite things to do here. Check them out before your visit.
15 Things to do in Prague-Take free walking tours
There is nothing like walking ad wandering through the streets of this historic city and what best if you get a walking tour which is absolutely free.There are many walking tours that are arranged here which takes you through the royal path and along with it guide you on the history, culture and facts.Try these tours (http://www.newpraguetours.com/) which are totally worth it.
15 Things to do in Prague- Take a Vltava cruise ride OR paddle in the river for a cheap treat
Its amazing to do a cruise ride in the river Vltava(http://www.vltava-cruise.cz/) which gives you awesome views of the city plus they have meals included in the cruise ticket but if you want to go for a budget friendly way then paddle boating is the best way to enjoy an evening in Prague.It just costs between 7to 9 euros and the experience is amazing.
15 Things to do in Prague – Catch the 'change of guard ceremony' in Prague castle at 12 noon
When you are in Prague the visit to the Prague castle is must but if you want to see it and experience it in a royal way you have to be there at 12 noon sharp to see the change of guard ceremony in its full traditional manner.
15 Things to do in Prague – Walk up the Petrin hill and relax in the park
Prague has a lot of free parks one of it is Petrin park where you can enjoy your evening with a bottle of beer. Its amazing to climb up the Petrin hill because the trek is just awesome but Alternatively there is also a funicular rail which takes you up there.
Petrin hill has many parks and is a perfect recreation centre for most of the locals. Apart from the leisurely atmosphere there are other attractions like Hunger wall and Saint Lawrence cathedral to catch on.
15 Things to do in Prague – Enjoy "Paris in Prague"
Like Paris has its huge and tall Eiffel tower Prague too has an observation tower similar to Eiffel situated on the Petrin hill. It has 299 steps and after climbing up the views are just spectacular.
15 Things to do in Prague -Dance around the dancing House
Dancing house is a building with a very unique and non conventional architecture. The shape of the building is like dancers and hence was once named by the famous dancers Fred and Ginger.
15 Things to do in Prague 7- Segway through Prague
Prague has so many places to see and if one is not comfortable walking or just wants to experience a ride on Segway there are Segway walking tours to see Prague too(http://www.prague-segway-tours.com/en/)
15 Things to do in Prague -To catch the real essence of Prague,indulge in a Beer tasting tour and also visit the beer Museum
Beer is like life to the people of Prague and its next to God. There is so much more to beer than just a drink but if you are like us (Sid+Nik) and know very little about Beer culture then this Beer tasting tour will make you look at the beer side of life..:).There are also Brewery tours if you want to know about the fermentation and process of making it.Check this (http://www.prague-beer-tours.com/beer-home-page)
15 Things to do in Prague 9- Hang out in Letna beer Garden
Talking of beer reminds me of this amazing garden Letna where people sit in hours together in summers with their pints enjoying the waters of river Vltava. I just loved the relaxed vibe this garden gives and is totally worth it if you are a crazy BEER drinker.We both don't fall in this category but just loved the place.
15 Things to do in Prague 10.Enjoy the waterfront on Kampa
Kampa is a small island on River vltava and is a very romantic place to spend an evening.There is also a small stream which is called the devils stream that runs across this island giving a Venice kind of feel to the place.
15 Things to do in Prague 11- Have a good time with Prague's famous Hot chocolate
Hot chocolate is Prague's speciality after its famous beer. It definitely caught our attention as we loved this delicious melting hot chocolate that you get in this capital.Our favourite is from CHOCO CAFE(http://www.choco-cafe.cz/). Do try it when in Prague.
15 Things to do in Prague 12. Enjoy street jazz and Blues
Prague is a musician's city and there are many clubs and pubs where you can enjoy this traditional Jazz and Blue music.It is also played for free on streets but for that you should have luck on your side to be in the right place at the right time.
15 Things to do in Prague 13. Do try vegetarian Goulash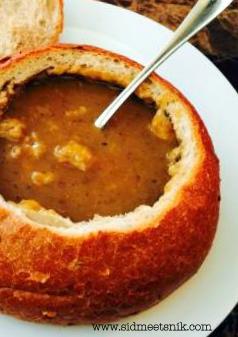 Being pure vegetarians, we have to research and see a lot of options and thats how we discovered that Goulash can also be made in vegetarian way.Goulash is Hungarian stew dish made of meat and vegetables with macaroni. It very famous in Prague and is served with bread,fries and grilled veggies.It is also served in a  Bread pot if you ask it like that.can also ask it this way.We asked for a vegetarian version of it and we got in many pure vegetarian restaurants in Prague.Also try Kolache which is a traditional Czech pastry.
15 Things to do in Prague 14: Visit the less crowded Vysehrad fortress
This fortress was built in 10th century and is a less crowded area if one wants to enjoy some quiet time.River Vltava and Prague castle look amazing from the top.
15 Things to do in Prague 15: Enjoy some graffiti on John Lennon Wall
Graffiti and Europe has some connection as wherever in Europe we went we saw many of these graffiti art on walls but John Lennon wall is unique in its own way.
It was a normal wall till 1980 after which it was filled with Lennon inspired Graffiti and also has many Beatles song lyrics. This wall has many world peace messages and the best part is we can join in too and scribble some messages on the wall.
These were the things that we enjoyed the most and I am sure there must be many more things to do here.
So feel free to add in your lists too
Till then…keep travelling and keep exploring.
Please follow and like us: