10 vegetarian foods to try in Sri Lanka
10 vegetarian foods to try in Sri Lanka is my blog about the dishes that we( Sid+Nik) tried and tasted in Sri lanka during 12 hours of transit time.
Sri Lanka is a beautiful country of coconuts,beaches,elephants and tasty cuisine.By this time you all know that apart from travelling if there is something that we(Sid+Nik) cannot resist is good food.
Me and Nik are total foodies and just love to explore the food culture of each and every country that we visit and Sri Lanka was not an exception,either.
When we were travelling to Singapore last year,we waited in Sri Lanka for 12 hours during transit and explored this crowded capital of colombo. As its a coastal country there was a huge variety of sea food and meat dishes but as pure vegetarians we did get to enjoy some unique vegetarian cuisine
So right from going out of the airport to coming back before our flight we tasted these 10 dishes which were tasty,unique,cheap and easily available.
So come have a look at what we ate during our short stay in this Sinhalese country.
1.Vegetable Kottu Roti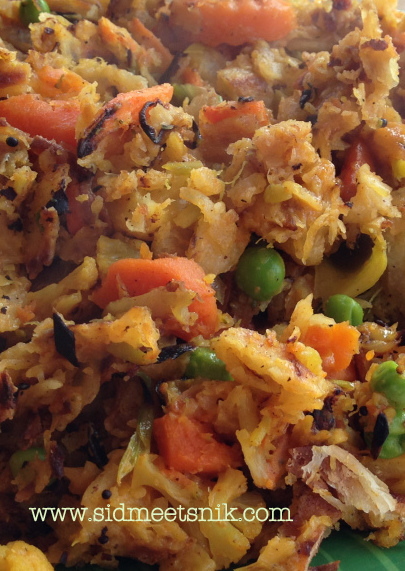 when we came out of the airport, it was already 8 am in the morning and it was breakfast time. One of my Sri Lankan friend had recommended me to have Kottu roti for breakfast and hence I was searching for a restaurant and found out this budget friendly Hotel Seven eleven on Galle road, colombo where we ate this amazing Kottu roti.
Kottu roti is very similar to Kottu paratto and is made from pieces of roti(indian bread or naan) and is mixed with variety of vegetables and spices and is cooked in a unique way. The cooks take huge knives and make cutting and chopping and mixing sounds on the Tawa or pan which you can hear till your table.They play with their Rotis and toss and mix it many times till you get the best looking and well garnished Kottu Roti.
2. Sambal pol(coconut sambal)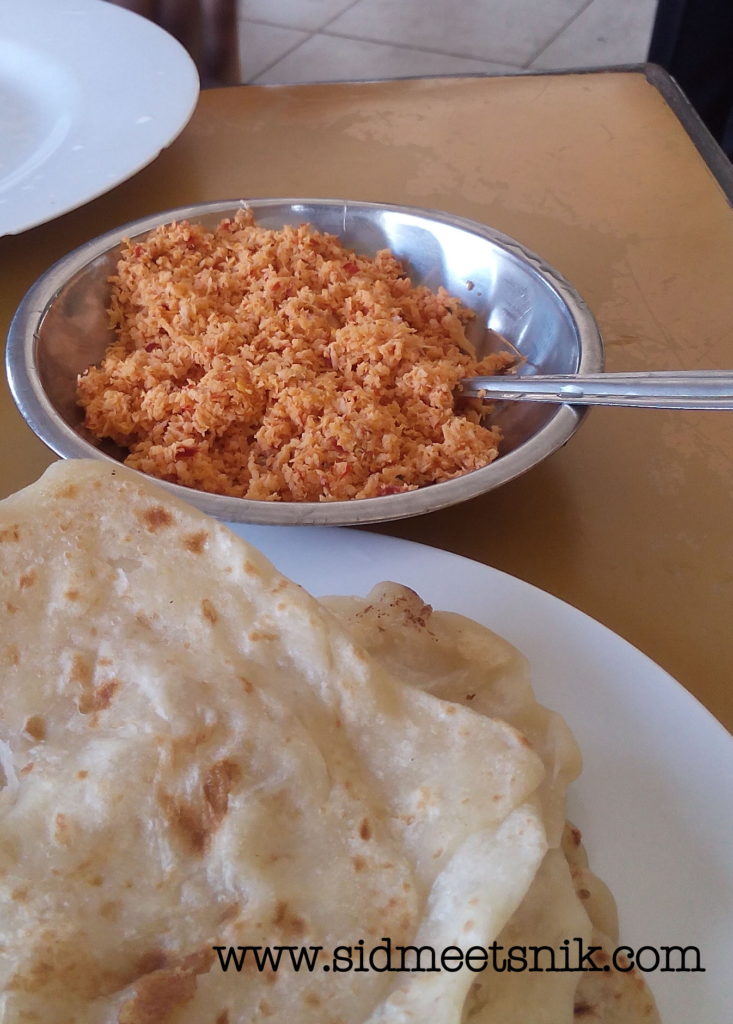 Sambal is like a staple dish of Sri Lanka and is almost served with every dish.Sambal is kind of chutney but is very coarse and is made up of fresh grated coconut, red chillies and lime.This dish is very savoury and can be teamed up with Rice,Appam or Roti. Each and every time it is made fresh and hence it takes awesome.
3. Hoppers or Appa
Hoppers are also called as Appa or Appam and are pancakes made from Rice flour.These hoppers take the shape of the pan as the batter is rolled all over the surface while making it. The method of making them needs quite a practice as its not easy to make a perfect hopper. Egg hoppers are a speciality but we had normal hoppers.These hoppers are served with sambal,vegetable curry or dal.
4. String Hopper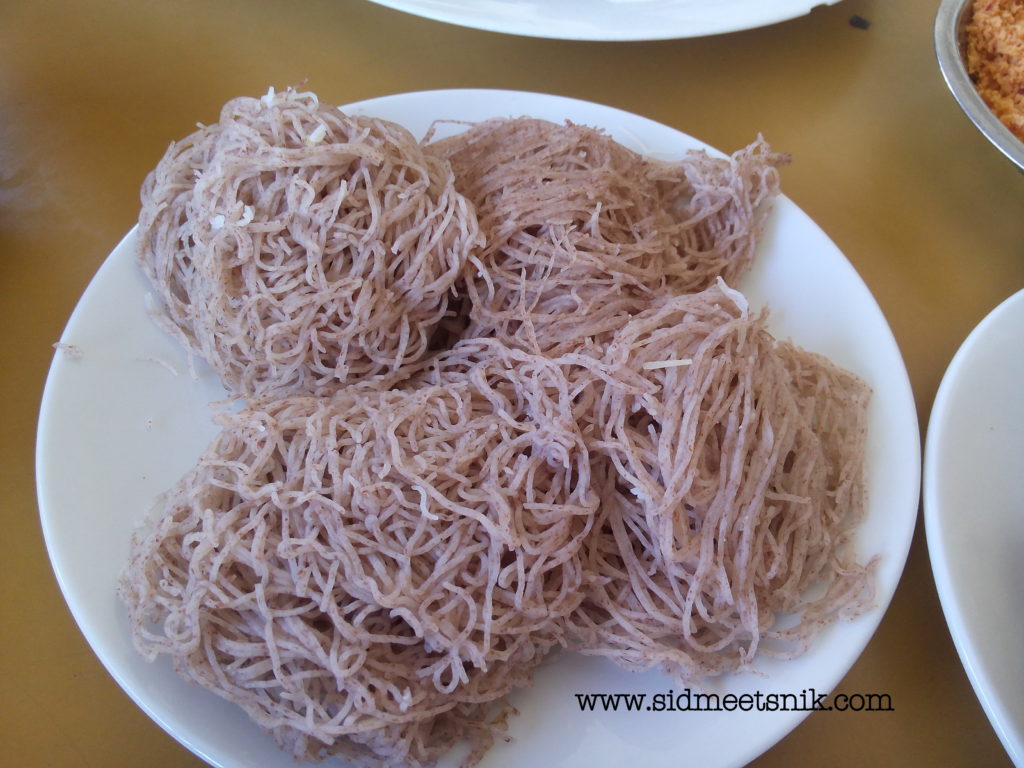 String Hoppers caught my attention the minute I saw them as from a distance it looked like noodles. I was so tempted to have them so ordered a plate. In one plate almost 4 String Hoppers are served.
Strings or noddles are made from Rice or wheat flour and are placed on a Hopper mats. These hopper mats are then steamed for 10-15 mins after which perfect looking hoppers are ready to be served.
5. Sri Lankan dal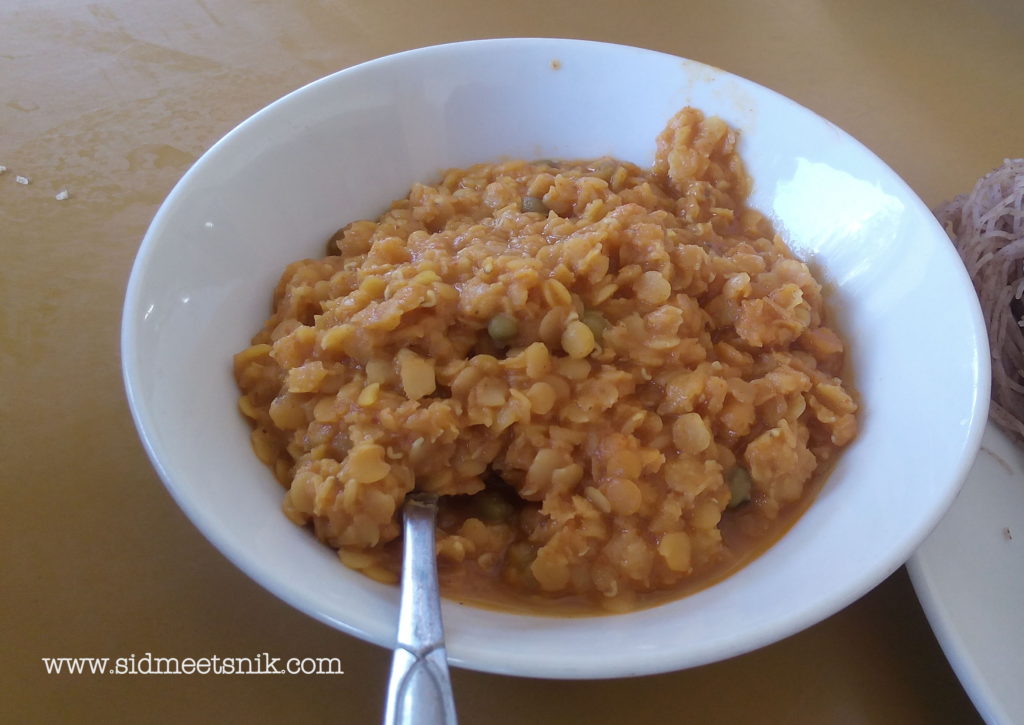 Being an Indian,dal is our staple food and we have it on a regular basis.That was the reason why this Sri Lankan dal was not our first choice to order but it was served on almost each and every table and hence we couldn't escape it and ordered it.
It was very similar to indian dal but was very light in spices and was cooked only with basic ingredients without overpowering it with the spices and hence we could get taste of the Dal(pulses)which was perfectly cooked.
6. Kurma(mixed vegetable dish in coconut curry)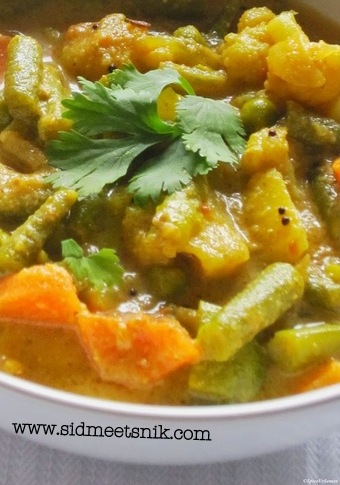 Any vegetarian curry dish you order in Sri lanka,it has one ingredient for sure which is Coconut.We loved this mixed vegetable kurma which was creamy and thick, had generous amount of coconut milk with very basic spices.We ate it with Roti and appam.
7. Vegetable Roti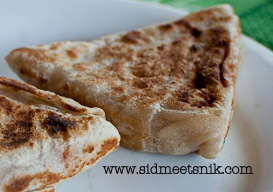 A vegetable Roti is like a stuffed veg puff kind of a dish and is made in triangular shapes.Its a very basic food item that fills you up.The roti (indian bread is filled with potato-onion-veggie mixture with spices and then the roti is closed to make it look like a samosa. It is then cooked from both sides on medium heat.
8. King coconut water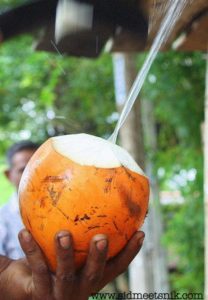 Nothing is as refreshing as the coconut water here as the heat is bang on.Coconuts you get here are not green but are orange in colour and hence they are known as King coconuts.We had King Coconut water a couple of times through out our trip in Sri Lanka. Don't miss this when in Sri Lanka.
9. Ginger Beer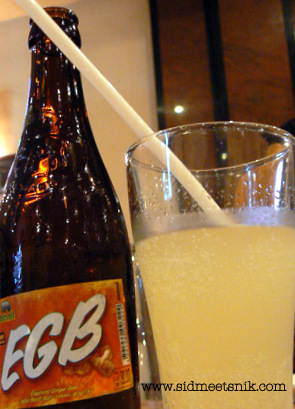 The name Ginger beer may make you think that it is actually a Brewed Beer(alcoholic) but In Sri Lanka this aerated carbonated beer is actually a soft drink and is very famous.
We had Elephant House Ginger Beer which was just perfect and it had ginger extract with soda.This drink was developed in Sri Lanka,more than 100 years ago and is still a hit among locals.This drink acts as a digestive and is so good with your spicy food.
10. Ceylon Tea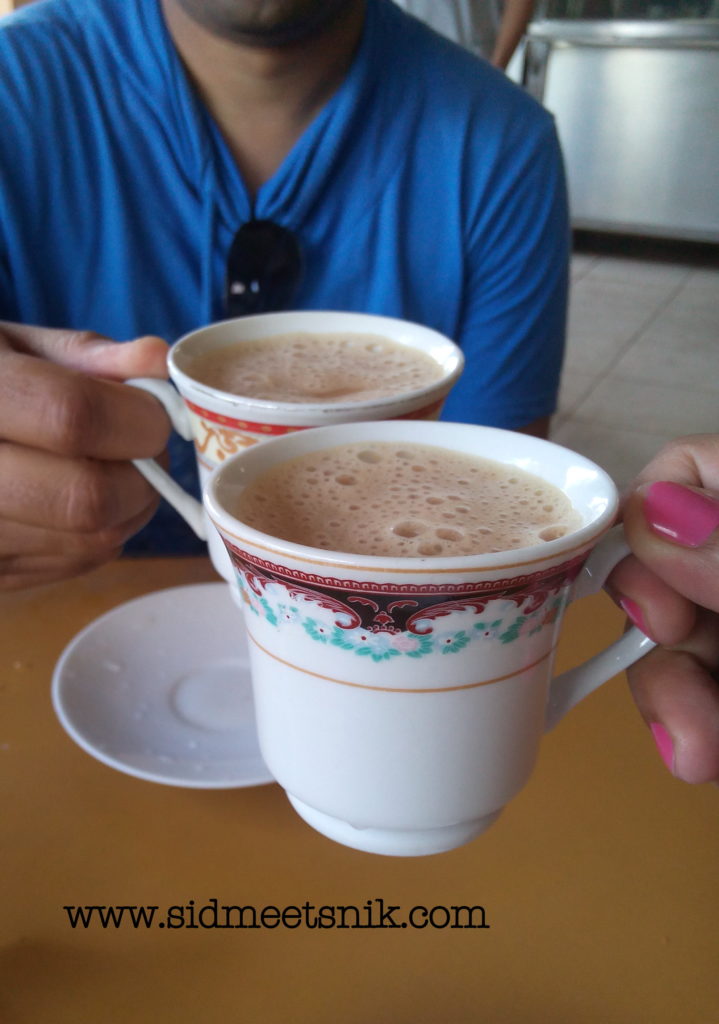 Last but not the least the one thing that I tried here and absolutely loved is the ceylon tea. Nothing beats the taste of tea from Sri Lanka as this land is very famous for Tea making.Ceylon Tea is very very light on the taste buds and has a very intense flavour.Locals here have it without milk but i preferred it with milk.We also got the packs of these tea back home to gift our friends and family and they loved it.
Sri Lanka exhibits a unique mix of food culture and there is so much more to taste and try here. As we were travelling here only during our transit time we just tasted the common and basic recipes.
Net time I want to try the jackfruit curry,coconut pancake,Halapa and many many more dishes.
So travellers and explorers if you have tried any of it write to me back also add in your suggestions.
 Till then Enjoy life to the fullest..Ciao!!
Please follow and like us: