Biscuit Cutlets 
Biscuit cutlets is a very simple and easy recipe made from cracker biscuits.This dish can me made with very less ingredients and is not very tedious to make.These yummy cutlets are ready in no time and are perfect for appetisers.
I have used round Monaco biscuits in this, but if you don't get this brand you can try it with any cracker biscuits.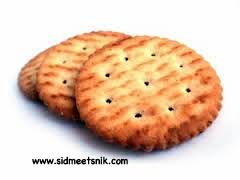 So here is the recipe for this dish
Serves:
4
Ingredients for Biscuit Cutlets:
Fresh Ingredients
3 medium sized potatoes(boiled and peeled)

1 small onion

2 spoon green chilli paste

2 spoon ginger-garlic paste

1 spoon cumin powder

handful of cut coriander

Salt
Dry Ingredients:
2 packets of Monaco biscuits(around 20 biscuits)

2 spoons all purpose flour(maida)

1 Cup bread crumbs
Method for Biscuit cutlets :
For the filling:
Take boiled potatoes and grate or smash it in a plate.Cut onion in small pieces and keep aside.

Take a big bowl and mix smashed potatoes and cut onions to it.Mix it all together.

To this,add 1 to 2 spoons of ginger-garlic paste according to your taste

Now add 1 spoon green chilli paste to it.You can also add red chilli powder if you like.

Add salt and cumin powder.

Mix all together and add cut coriander to the mixture.

Keep this filling aside for some time
Method for assembling the cutlets:
Take 2 Monaco biscuits and sandwich this above made mixture in between(i.e take one Monaco biscuit and add one spoon of filling on it. Top it up with another Monaco biscuit.)

Do it for all the remaining biscuits so that total 10 Biscuit sandwiches are ready
Method for coating the cutlets:
Take a plate and add bread crumbs to it. Spread it all over the plate and keep aside.

Take one spoon of all purpose flour in a small bowl and add just 2 spoons of water in it to make a thick white paste.

The paste should not be very runny but thick enough to coat the entire biscuit sandwiches from both sides.

Take one biscuit sandwich(which we have already made) and dip it in this mixture and see that both sides are coated equally. Take it out from the mixture and roll it on the plate of bread crumbs.

This step should be done immediately because that makes the bread crumbs stick to the biscuits properly.
Method for frying:
Take a frying pan and add oil to it

When the oil is heated ,add the coated biscuits in it.

Fry them till they are golden brown from both the sides

Remove and add on a kitchen paper to get rid of excess oil.

Monaco Biscuit cutlets are ready to serve.

Serve with tomato ketchup or red chilli sauce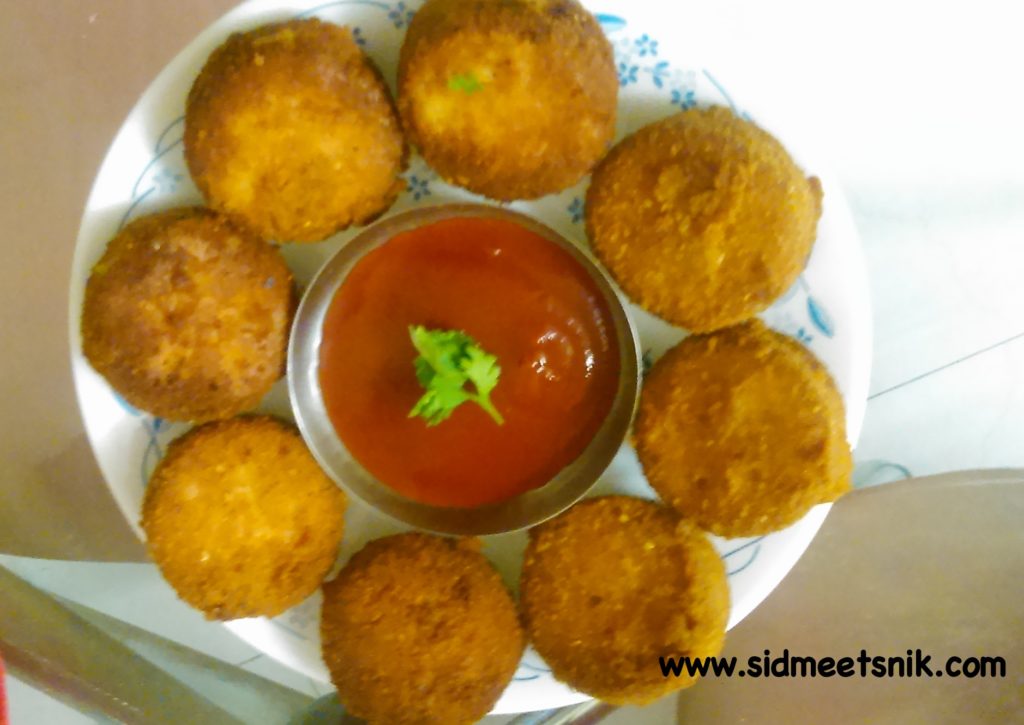 Tips and variations for this cutlets:
When the biscuit sandwiches are ready coat them with the maida paste and roll it on the bread crumbs immediately.Also keep the frying panwith heated oil ready on one side.

As soon as you coat the biscuits with maida paste and bread crumbs, add it to the frying pan for frying. Don't keep this coated biscuits for much time as then the cutlets won't turn crispy but will be soggy.

For the filling you can add chaat masala or dry mango powder too if you want a little tangy taste to it.

It can also be served with green mint or coriander chutney.

The main thing to keep in mind is the cutlets should retain the crunchiness of the biscuits.So these cutlets should be crispy from outside and soft from inside.
Do try this recipe and let me know how it turned out. Also don't forget to write to me back with your variations and suggestions.
Till then…Happy Eating!!
Please follow and like us: