Sweet potato halwa
Sweet potato halwa is one of my favourite dish and is super super easy to make.We indians usually have this halwa when we are fasting as it gives us enough energy for the day and is a very healthy option to any other fast food.
Sweet potato is a best option to replace normal potatoes as it is loaded with beta carotene. They are sources of vitamins and has phosphorus and Niacin(vitamin B3) which helps in giving energy to the cells of our body and also reduces cholesterol.
Do try this delicious halwa, here is the recipe.
Serves:

2
Ingredients:
2 medium sized sweet potatoes(washed and peeled)

1 small bowl fresh grated coconut/desiccated coconut will do too but fresh is always better.

1 small cup sugar

1 spoon cardamom powder

handful of dry fruits of your choice

2 spoons Ghee(indian cow's ghee is best), if not available then use unsalted butter.
Method:
Wash the sweet potatoes properly and peel them

Cut the raw sweet potatoes in half and make total 4 pieces of it.

Recut these 4 pieces in to about 2 mm thick slices(the slices should not be very thin nor should they be very thick)

Repeat this for another sweet potato too and keep the cut sweet potatoes aside.

Take a pan and heat it for about 2-3 mins.

After its heated add 2 spoons full of ghee and let it melt. Don't heat the pan too much as ghee can burn very easily if heated to a high temperature.
When the ghee has just melted, and when the room is filled with its sweet aroma, add the thinly cut slices of sweet potatoes to it.

Stir the pieces of sweet potatoes in it properly so that it gets coated with ghee on all sides.

Let it cook for about 5-6 minutes on medium heat.

Keep stirring it in between from time to time.

When the Pieces are half cooked, add 1 cup of grated fresh coconut mixture to it and mix it well with all the pieces.

Cover the pan with the lid and let it all cook for 5 minutes more.

Now at this time add 1 small cup of sugar to the whole mixture. You can add more or less sugar according to the amount of sweetness you want in the dish.Also the sweetness of sweet potatoes can vary so add sugar according to your taste.

Mix everything well and let the sugar melt with the sweet potatoes and coconut mixture.

Cook this for another 7-8 mins with the lid on.

To check if the halwa is done, insert a fork inside the pan and check if you can cut the piece of the sweet potato with it.If you can cut it easily and the fork moves smoothly through it, turn the gas stove off.

Let it set for about 10 minutes in the pan.

After 10 minutes, add cardamom powder to it and mix it well.Your halwa will have a glaze and sheen to it and thats the time when you will know that its done.

Now plate it as you want. If you have nice moulds in different shapes, you can use it otherwise you can simply assemble it in a small bowl.

Garnish it with some fresh grated coconut and dry fruits.

Your simple and succulent sweet potato halwa is ready to eat.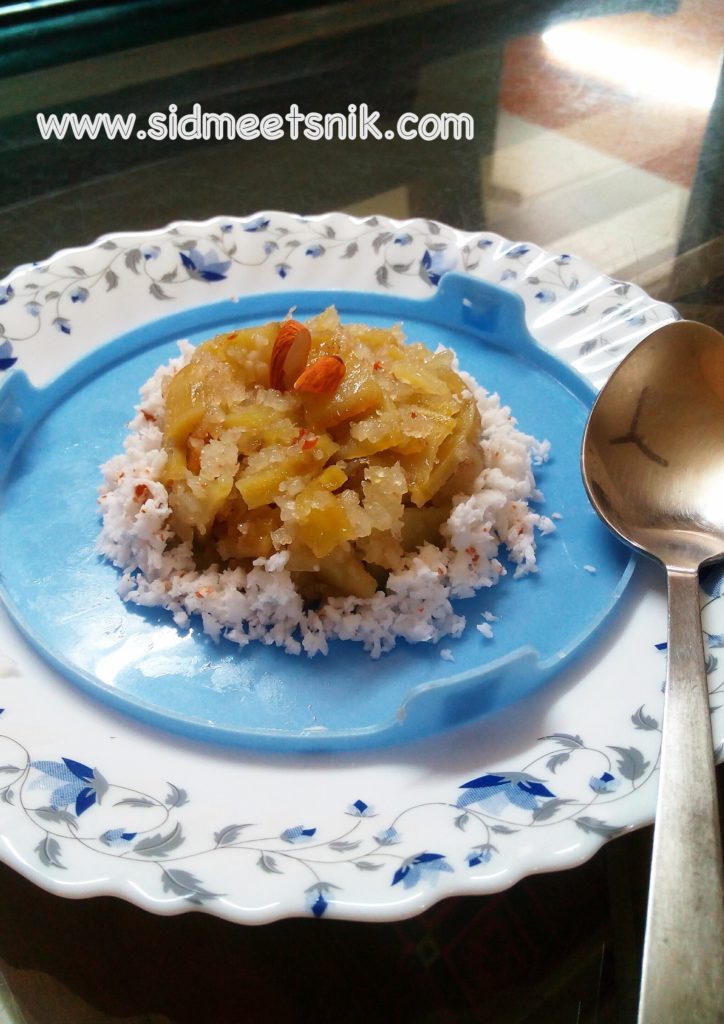 Tips and Variations for this Halwa:
If you feel that the halwa has become very dry, then you can add more ghee to it.

Alternatively you can also add some coconut milk or even normal milk,if you want it to be very soft.

Saffron and rose petals can also be added for extra flavour.

This halwa can go well with a dollop of whipped cream too.
Do try this awesome Sweet potato halwa and let me know your views on the same.Please make sure you share your experiences and write to me back so that we can all learn from each other's experiences.
Happy eating till then!!
Please follow and like us: