Eurail Pass Guide
Eurail pass guide tells you about the most convenient, flexible and hassle free travel document that you can choose to make your Euro trip the best one.
These Eurail passes are available only and only to Tourists and hence its the most trust worthy and perfect travel doc you can have with you before you travel to Europe.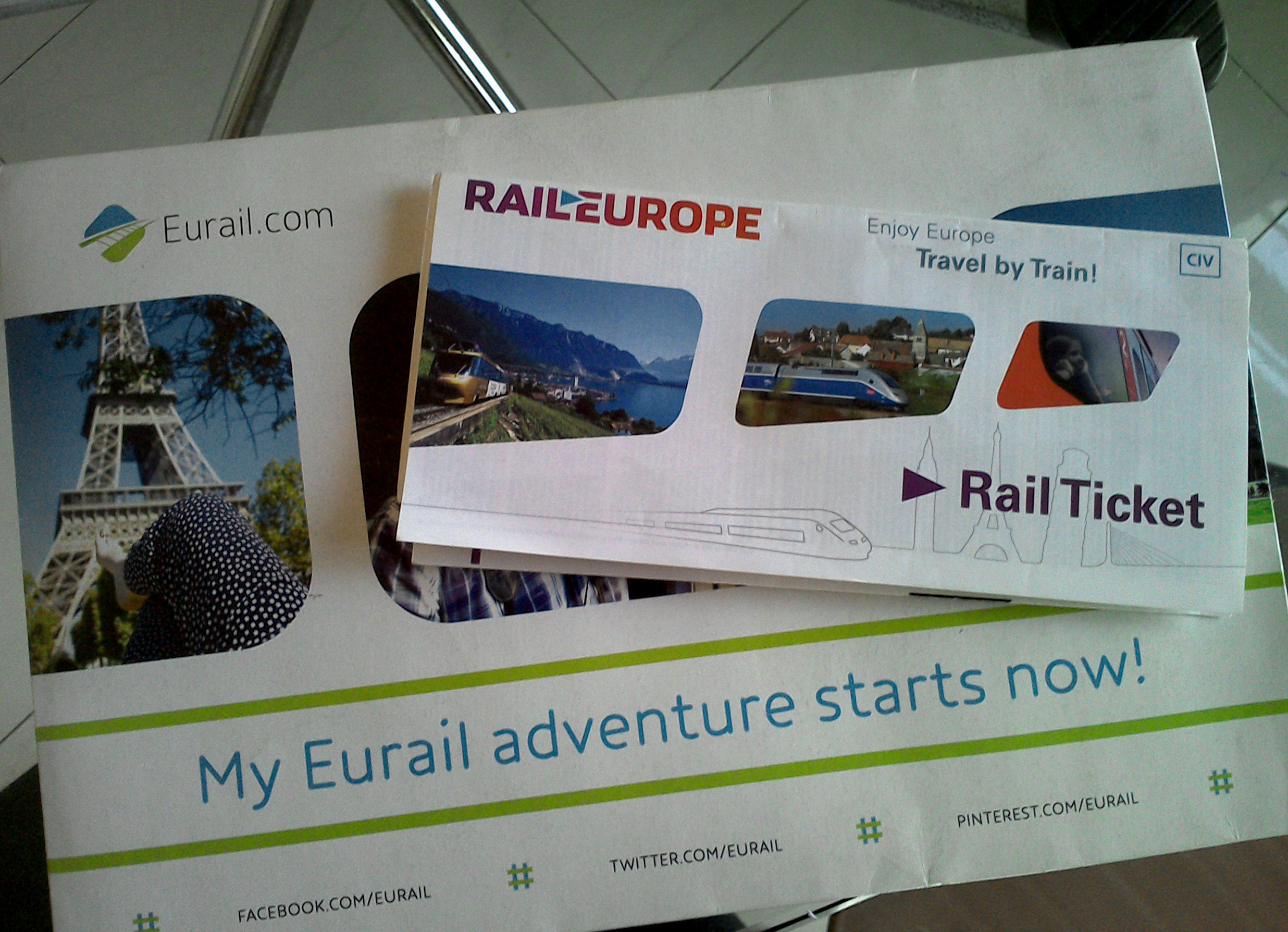 Whenever it comes to travelling in Europe the main concern among tourists is travelling to different cities in same country or long distance travelling in and out of each country. There are trains,Flights ferries, buses or cars and cabs but the most convenient and budget friendly option is travelling through Trains as Flight and cars is something which everyone cannot afford.
Train travelling is the best way of travelling in and around Europe and to save up on the point to point tickets there is this one document that fits well and is none other than 'Eurail pass'.
In this Eurail Pass guide all your questions are answered so here we go
   1. what is Eurail pass ? and why should I opt for this pass?
Eurail Pass is one single travel document or a single pass through which you can enjoy extensive rail travelling for a specific number of days and can travel without taking point to point tickets at each and every junction. The days can be according to your travel plans ranging from 5,7,10,15,22, one month, two months or also up to 3 months.The beauty of this pass is that you can travel number of times to and fro and can take any train at any time.
which pass suits me and which pass should I buy?
There are 3 main types of passes
Eurail Global pass

This Global pass(http://www.eurail.com/eurail-passes/global-pass) is for those who want to travel to more that 4 countries as with this you can travel up to 28 countries in and around Europe.

Eurail Select Pass

In this pass there are 3 sub passes like:
Two country pass

Three country pass

Four country pass
With Select pass(http://www.eurail.com/eurail-passes/select-pass) you can choose up to 4 countries but the only condition is the countries you choose should border each other means they should be adjacent and connected to each other. For Eg if you choose 2 country pass then you can choose Germany and France together but you cannot choose Germany and Spain together as they don't share common border.If you want to do both Germany and Spain then you will have to opt for a 3 country pass and do Germany,France and Spain together. This is how it works and you can select up to 4 countries in it.
The benefit of this pass is you pay only for those countries you plan to visit if your plan is fixed from before and you can choose the countries according to your travel plans
Eurail One country pass

In this one country pass(http://www.eurail.com/eurail-passes/one-country-pass) you can choose that one country you want to experience and can enjoy endless travelling within that country. Many people choose Italy in this category which works perfectly for single country travel.
  3.  Which trains can I take through Eurail?
With Eurail pass you can take any national railway companies trains i.e. owned by government and also some private trains.
Remember : With Eurail you cannot take all private trains(Like in Germany when we took a train run by BOB which was private, we had to pay extra amount so better check in advance and take the trains which are free and accepts Eurail. Check the participating railway companies here(http://www.eurail.com/europe-by-train/trains/participating-railway-companies)
Don't need to worry about this aspect as there are almost all trains which accept Eurail and there are only a few exceptions.
what are the costs for each pass?Do I need to pay any extra amount for reserving a seat?
Different passes have different costs and it all depends on your travel itinerary and number of travel days.Also your age plays an important role as the costs differ from youth to adults to family(http://www.eurail.com/eurail-passes/global-pass)
When you opt for a Eurail pass the best thing is that you can take any train and at any time so unless for long distance journeys or night travelling you don't need to bother about seat reservations.
Whenever we travelled by any train there were ample of space and many vacant seats for us so we just used to get in the train and find a nice window seats for us but during long distance journeys we did prior bookings and had to pay for the reservation fee.
When you have a Eurail pass, you just need to give the reservation fees for a particular seat and not the entire travel amount as you already have a pass with you.If you don't want to pay extra you can still manage on long distance journeys but the only pit fall would be that you cannot guarantee consecutive seats or may be your group will have to scatter here and there.
From where can I buy this Eurail Pass?? is it available online?
When you reach Europe you can buy this pass at any train station but to save on money its always good to order it online on http://www.eurail.com/help/ordering-pass and have it with you before you start your Europe journey.You can also book it online and get it delivered when you reach Europe.In this case you just need to give the address of your hotel or hostel on which you want it to be delivered.
How can I start using it once it is delivered to my destination?
Once you order your pass and it reaches you,90 % of your work is done. What you need to do is just get it activated for the first time when you start your travel journey. You can activate your pass from any train station.
Activation means they put the stamp with date and time on your pass so that your days starts from that date itself.
How can I plan my trip itinerary and how can I know the train distances and time table of trains?
Once you get your Eurail pass activated your Euro trip starts in the real sense.Now you just have to plan your trip according to your liking and can make use of Eurail train planner app.This app helps you with all information regarding the train travelling. It helps in finding train station,tells you the timing of arrival and departure,rail time tables plus many more extra things.
It works offline too and can be downloaded for free. For android (https://play.google.com/store/apps/details?id=de.hafas.android.eurail&hl=nl) and for iphone ( https://itunes.apple.com/us/app/rail-planner-offline-timetable/id579547877?l=de&ls=1&mt=8).
Apart from trains can I opt for any other transport vehicle through Eurail?
Along with trains, Eurail also gives discounts on some boat rides and ferries as many Ferry companies have partnership with Eurail. You can also enjoy scenic ocean views with your Eurail pass (for more info on this visit http://www.eurail.com/europe-by-train/ferries)
    9. What can I do if my pass gets lost or I need any assistance with my Eurail?
If you feel you are not good at handling travel documents or have a history of losing important documents just opt for a 'Pass loss and theft coverage'.Through this you will have to pay an extra amount than the usual pass amount but it rescues you in tough times when your travel pass is lost. This is like an insurance for your pass so if you feel its necessary then only opt for this service.
If you need any further assistance you can visit any of the Eurail aid offices(http://www.eurail.com/plan-your-trip/travel-resources/eurail-aid-offices) which are mostly situated near the main railway stations and here you can get assistance for your queries.
Travelling by Eurail is one of the best experiences but before that you must know all the things related to it. I think I have covered most of the points here but if you need to ask anything more,feel free to write to me back.
Also check my blog regarding 'Eurail Global Pass' and its benefits that proved to be a blessing for our Euro trip
Till then keep travelling and keep living..!!
Please follow and like us: