An Evening in Prague
An evening in Prague is our sidmeetsnik's travel story telling our first encounter with this beautiful and historical city. In the summer of 2014, we spent the best 2 days of our life in this outstanding city and had a time of our life.
In those two days we visited many places but one amazing and memorable evening that we spent here is worth writing and worth sharing hence this blog.
We reached Praha Hlavni Nadrazi( main railway station,which is equally beautiful )at around afternoon and walked to our small cozy hotel named City club Prague( http://www.city-club.cz/)enjoying the views of this city.The first thing that I noticed was that the cars that run on the roads of Prague were driven very very fast. They actually make a zoooing sound which catches your attention and its a speedy affair here.
Our hotel was in Praha 2( its the name of the area) and was about 20 mins walking distance from the station. We checked in the room,freshened up and got ready for our first evening in Prague.
When we started from the hotel it was quite sunny and we had all our heat gears on. We walked through the national museum which is an art piece in itself.it over looks the wide Wenceslas square. This square is one of the 2 famous squares of Prague and has many cafes,restaurants,hotels, night clubs on both sides of the road.
We walked through it and reached the Old Town Square which is beyond description. It has a royal feel to it and the cobbled streets,the horse carriers and the grand castles makes it a landmark in itself. We passed the astronomical clock and after more walking reached Charles Bridge. This bridge has its own charm. Its the oldest bridge ever and gives a panoramic view of the city.
Walking on this bridge and breathing the air on the top is like seeping the history of Prague.The sun was shinning and its rays reflected on river Vltava giving us a post card view.
When we were in the middle of the bridge,suddenly the nature started playing its own play. The weather changed and the sun disappeared. The sunny sky was now taken by dark clouds and all we could hear was the sound of clouds hitting each other.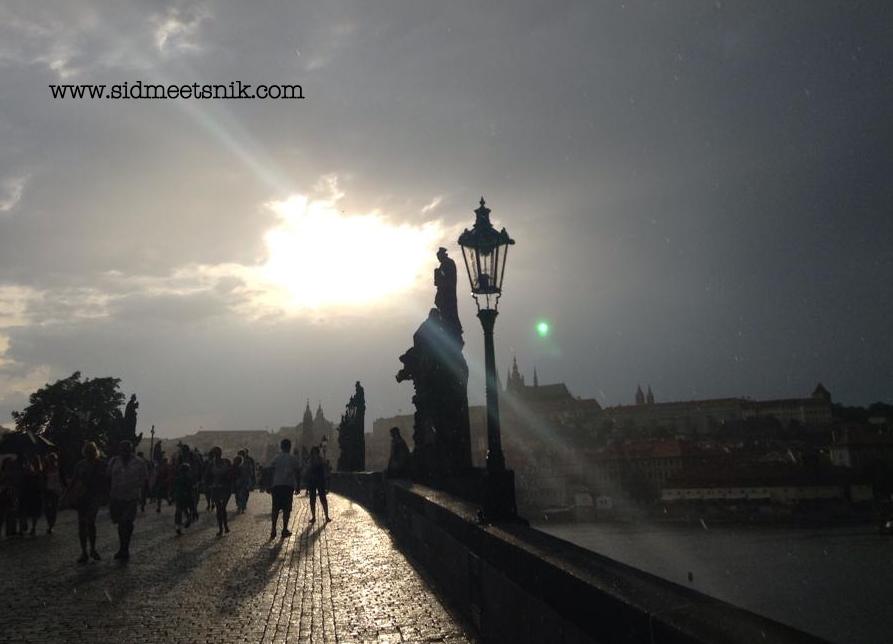 Before we could do anything it started pouring. Yes sudden rains and that too on the bridge and we had neither a jacket nor an umbrella.We struggled with our camera and looked for a place to cover ourselves. It was necessary to keep our camera dry so we went to a small shop nearby and purchased a small blue umbrella( for 4 Euros and which we still have,its our Prague souvenir)
But then we realised,"We are in Prague, that to on Charles bridge and its raining so what else could be more romantic than walking on the bridge,hand in hand in such a magical weather" hence without hiding we decided to soak up in that heavy rains.
By this time many tourists had gone down the bridge and there were very few of us on it. In rains, Prague looked even more beautiful and we could see the castle,the river and the towers all around us.We walked ,walked and walked on the bridge back and forth and experienced one of the most happening moments of our trip which will always stay with us.
To add to this dreamy moment one more thing happened. As we looked up in to the Prague sky, what we saw were two rainbows parallel to each other.It was a picture perfect moment.It felt like some one up there was having a colourful celebration as we could see so many wonders of nature in that same evening.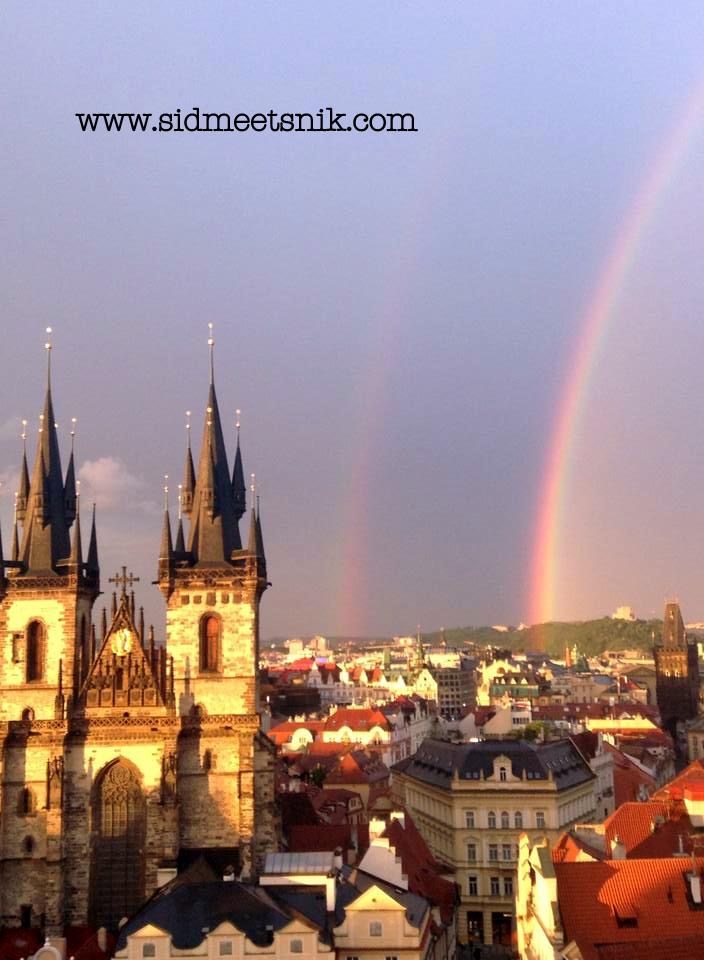 After all of this amazing moments there was more in store for us. As we came back to our city hotel,we saw loads of our co hotel mates in the main lobby. They were all geared up to watch the 'FIFA World cup' semi final match between Germany and Brazil. It was the first semi final of that world cup and what a match it was.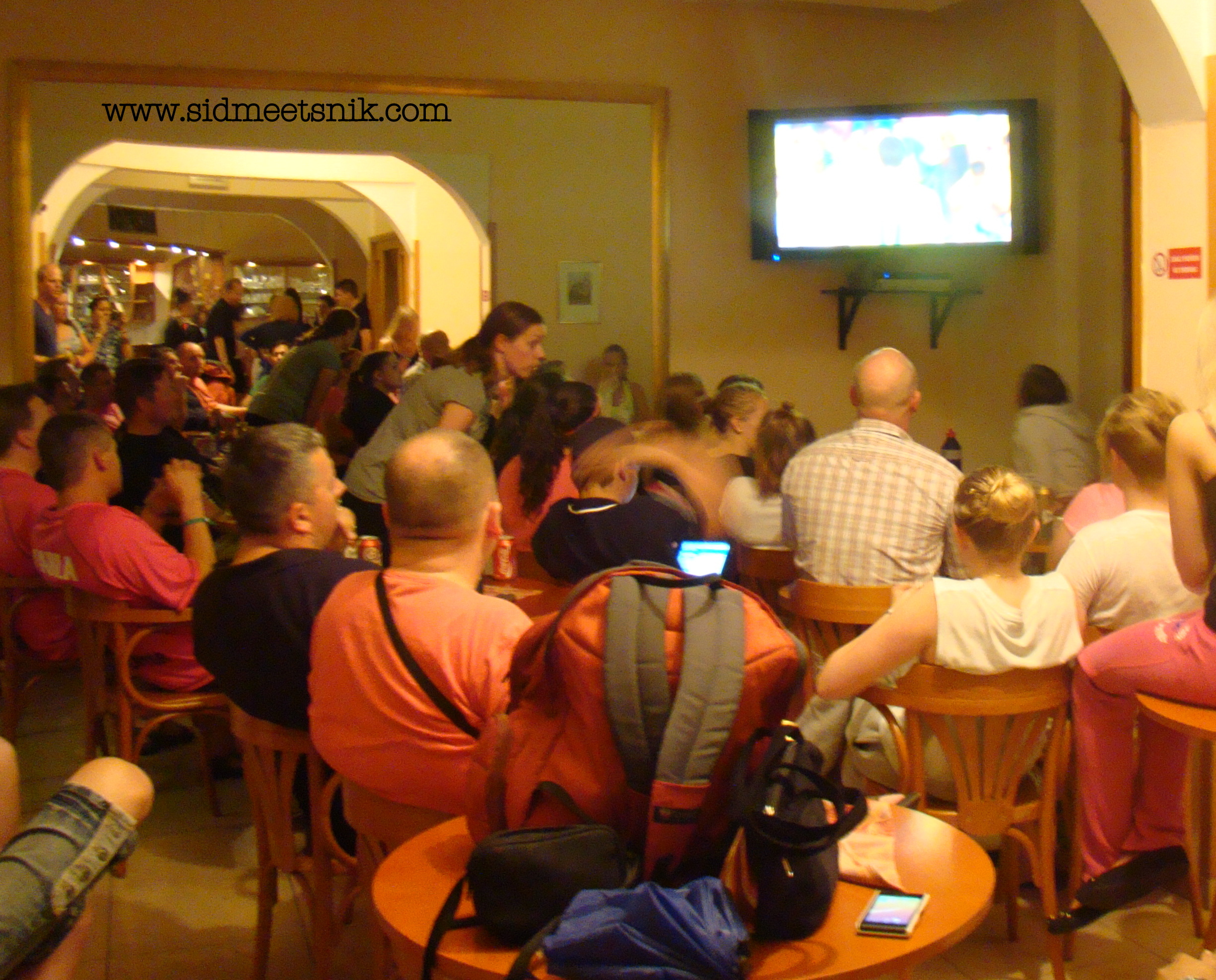 Germany scored 7 goals in 29 mins. The cheering,the shouting,the whistling and beer drinking was what we did with all the germans.It was such a nice feeling to sit amongst Germans to watch a match of FiFA in which Germany won by such a great margin.The game's result was the biggest winning margin ever in any world cup and it was one of the most iconic day in the history of FiFA.
That date was 8th July 2014, and it became unforgettable for many people. The Germans, The Czechs,the Brazilians and off course for Sid&Nik(us).
Please follow and like us: