5 must have foods in Paris
5 must have foods in Paris is my personal favourite list of  delicious foods that we enjoyed in this beautiful city of love.Do have a look at it and try to grab it as soon as you reach Paris.
There is so much written about Paris and there is still so much more to write about this wonderful, pretty, priceless and playful city and I can't wait either.I like everything about the city be it the roads, the cozy book stores around the corner, river Seine, the roadside cafes serving black tea and coffee, the museums, the bistros and brasseries and off course the food culture and French cuisine.
French food has its own charm as it is treated as an art form. The presentations and the garnishing are to die for. Being a vegetarian I did miss out on some classic French meals but still whatever I enjoyed here remained with me till now. There are loads of cafés and restaurants that offer great food but if you are a budget traveler and if fancy restaurants and  seven course meals is not your type then here are my five must have food  dishes  for you if you are in Paris.
5 must have foods in Paris- 1: Macaroons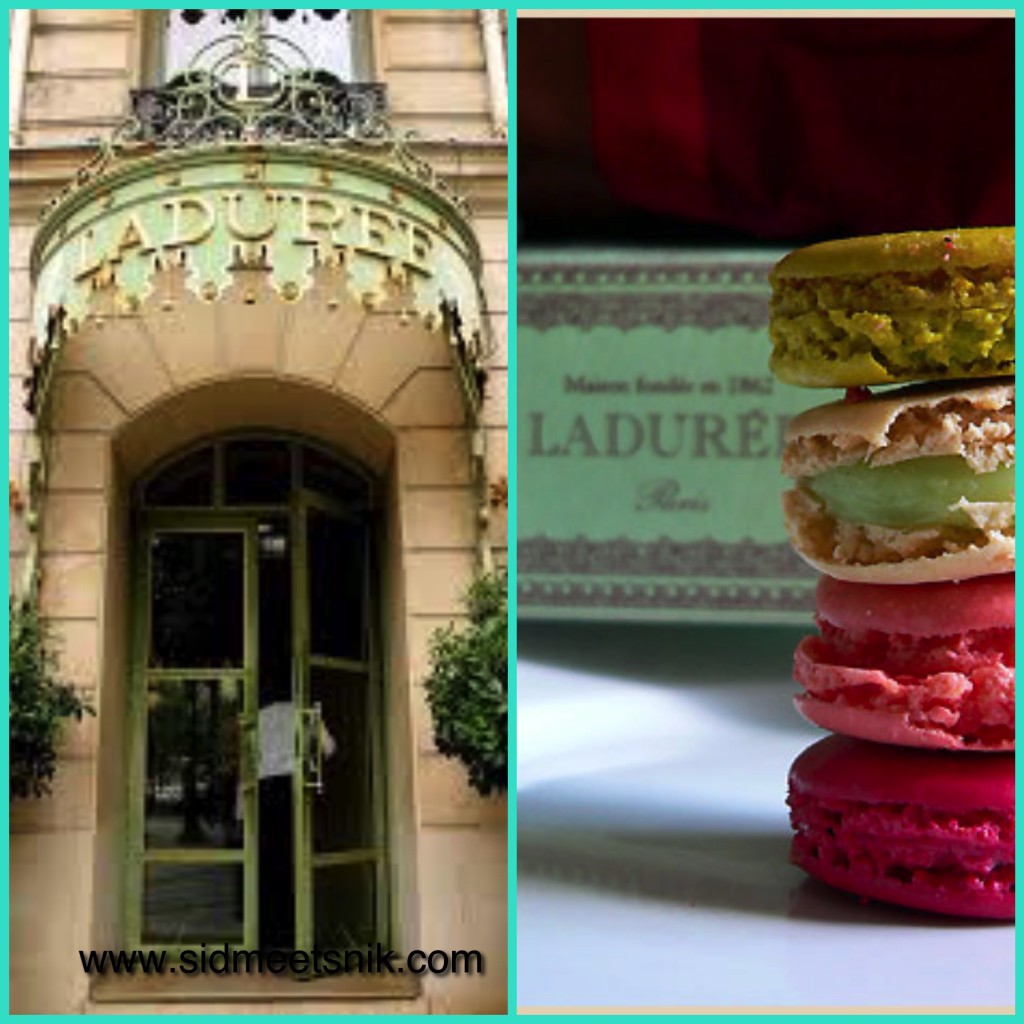 You might get macaroons all over the world now but nothing can beat this sugary, savoury mouthwatering delicacy which originated in France. Though the roots of this are Italian but the story says that two nuns Sister Marguerite and sister Marie-Elisabeth came to France during the French revolution and to pay for their housing started baking macaroon cookies and  thus became known as 'macaroon sisters".
Macaroons are very much French as you get the best macaroons in Paris and the place to go is none other than 'Laduree' which is on Champs Elysees(https://www.laduree.com/en_int/). Laduree has every essence of being called a french shop as it reflects pastel colours and  has very unique architecture. You get all types and shapes and flavors of macaroons here be it Pistachio, lemon, cinnamon, dark chocolate or raspberry.If you want to pack it and parcel home Laduree offers very cute olive green boxes and bags which are equally beautiful and classic.
5 must have foods in Paris- 2: Falafal wraps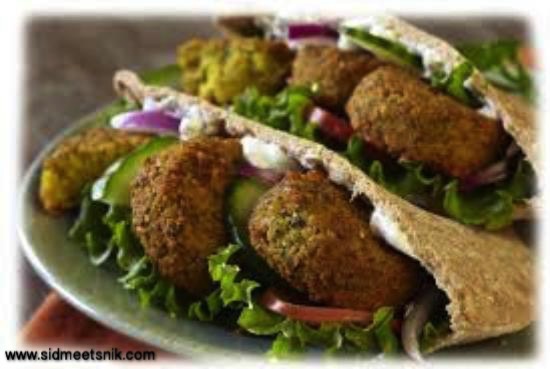 Falafal maybe an Arabic or a Lebanese dish but its eaten on a large scale in Paris. You will find many restaurants and bars serving falafel wraps in breads or in tortillas. The best thing about falalfal wraps is that it fills you completely and can serve as a best lunch option for those sailing on small pockets. A falafel wrap comes with a salsa sauce and some French fries on the side which makes the dish even more tempting. If you are lucky to have visited the restaurant in those happy hours you might even get a coke or any aerated drink free with it
 5 must have foods in Paris-3: Crêpe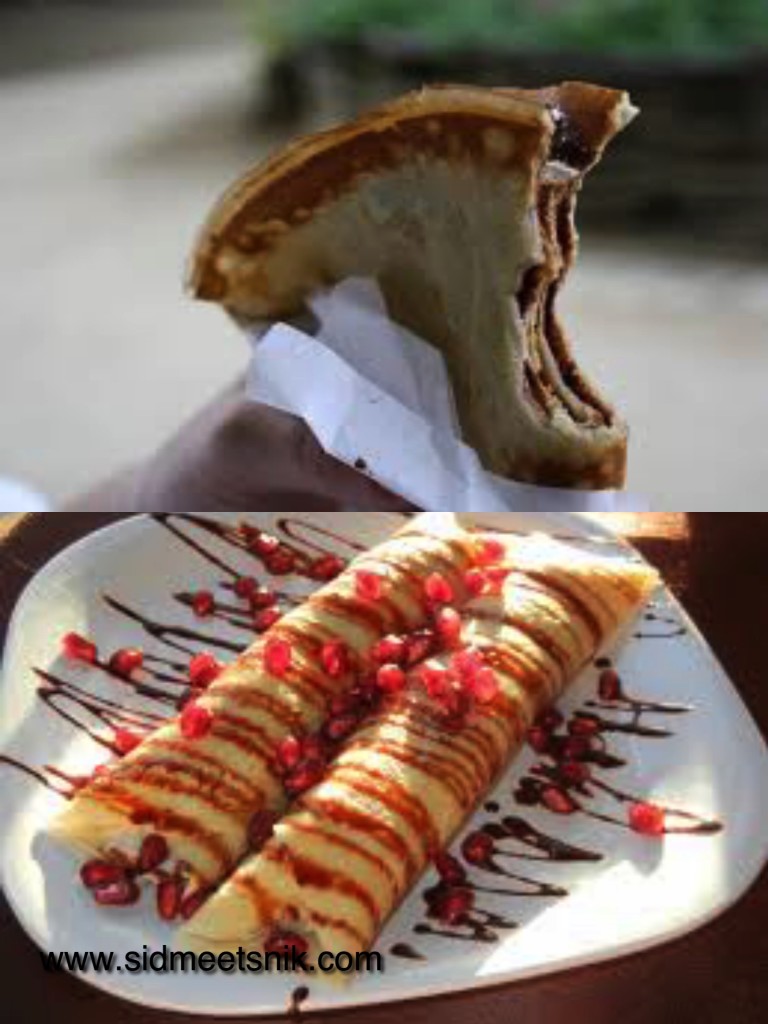 Crepe is a kind of thin pancake and the word comes from French origin and derived from latin word crispa meaning 'curled'. Crepes are associated with Brittany, a region in northwest of France but are popular all over the country. Though they are mostly consumed at breakfast tourists all over the world eat them even as a dessert.
They are served with number of filling including fruits, nutella, coconut, honey etc. The way a crepe is made is very interesting and it's a skill to make a soft, creamy and thin crepe.
 5 must have foods in paris-4:Baguette sandwiches and French fries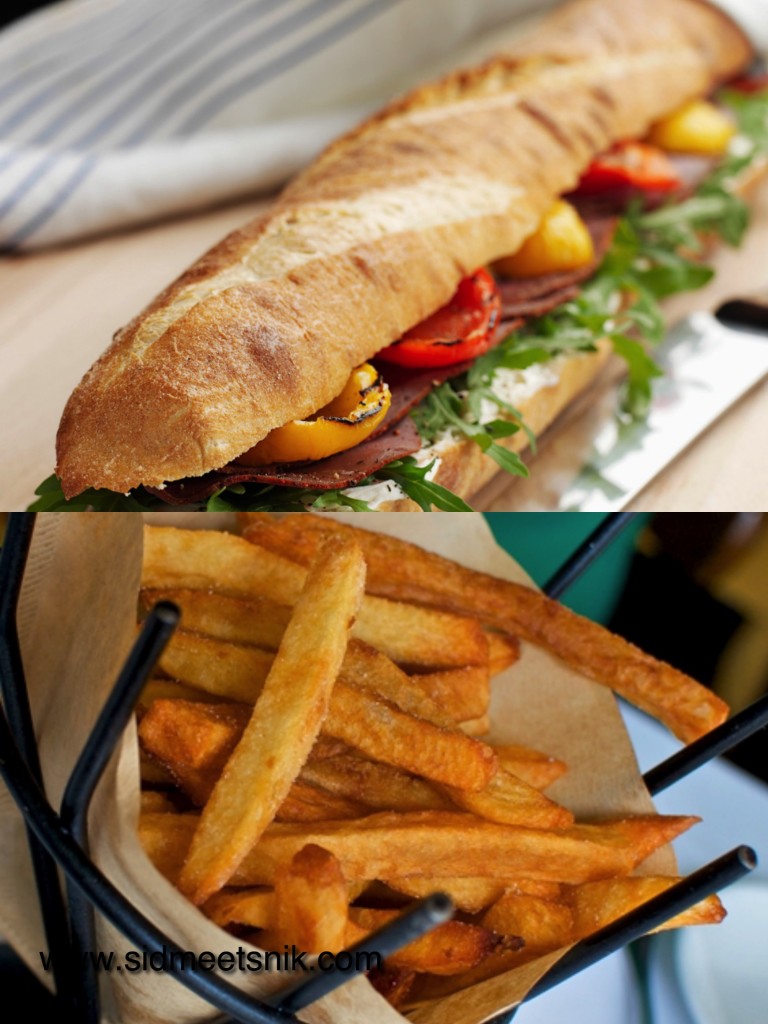 Sandwiches may not be an exotic food while on travel but it's definitely a comfort food and while in Paris one has to try different types of long, crusty French breads like Brioche, Ficelle with tea or coffee but the most famous one which is easily available is the baguette bread. Baguette sandwiches can be done with number of fillings (according  to one's choice) and can be a great filler too. One can even make his or her own baguette sandwich by adding veggies and cheese of their choice as both are readily available in any grocery store in Paris.
If you are in Paris and if you are not eating French fries then it's certainly a crime. The French fries here are different from which we get in McDonalds. They are short and thicker but very tasty and crisp and you cannot afford to miss this when you are here.
5 must have foods in Paris-5:Berthillon Ice creams and Hot chocolate from Argentina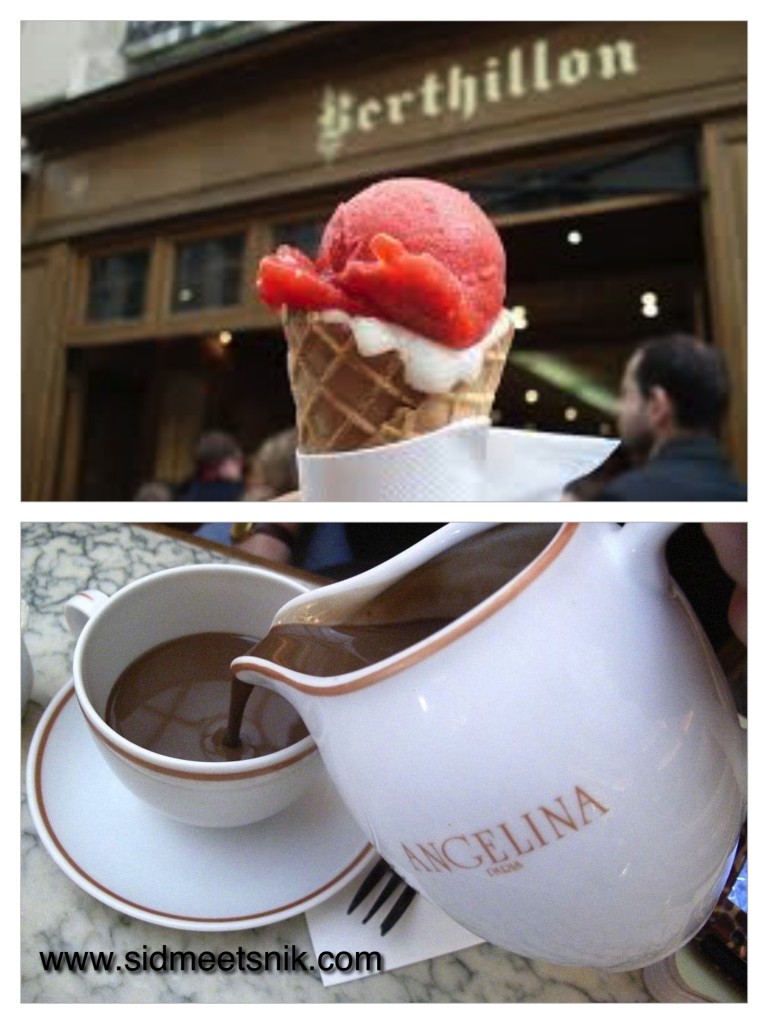 If there is one thing without which your Paris food trip cannot be complete is by visiting Berthillon ice cream stores in Paris(http://www.berthillon.fr/) The legacy of this ice-cream manufacture brand continues from 1928 when Monsieur Berthillon opened his first restaurant here. There are many different varieties of ice creams including banana, coffee, vanilla and chocolate.If you are not a ice cream lover you can savour on Bethillon's sorbets like mirabell ,apricots ,peach and lemon.
There are so many places to visit in Paris but if you feel like grabbing a nice book and sitting all by yourself in a happening café sipping some exotic drink then forget wine and taste hot chocolate from Angelina (http://www.angelina-paris.fr/en/). It's heavenly and soothing and one can enjoy their cuppa with nice ambiance and great surroundings. It's definitely a must have if your are in Paris.
Now next time when you are going to Paris, alone on a business trip or on a holiday with someone, I am sure you will enjoy all these 5 quick foods  and also will share it with other travellers.
Till then Keep travelling and keep Munching!
Please follow and like us: